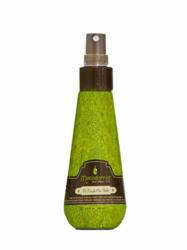 (PRWEB UK) 29 April 2013
Hairtrade, the UK's leading retailer of hair extensions, clip in hair extensions, hair care and beauty products has announced that it has added an exciting new product to its Macadamia Natural Oil collection.
The Macadamia Tangle range is the newest addition to the popular line in time for Spring and Summer when curls and boho waves are the top style of the season and detangling products become popular once again to achieve the look.
Macadamia Natural Oil hair care products combine two of the world's rarest, most valuable oils to provide the ultimate in hair rejuvenation and maintenance.
The new Tangle range consists of a Macadamia No Tangle pre-styler which moisturises hair and effortlessly eliminates tangles on contact. It is amazingly lightweight and is ideal for adding volume as well as creating a smooth, sleek look.
As well as instantly detangling hair without breaking or damaging hair, Macadamia No Tangle also provides natural UV protection, infuses moisture and shine and provides much needed nourishment and painless smoothing for hair prone to tangling.
Keven Kou, Managing Director at Hairtrade.com commented, "The Macadamia Natural Oil range has been one of our top selling brands this year so far, so we are continuously looking to add more products to the range."
He continued, "A lot of the styles for Spring and Summer are when hair is worn down, and tangling is one of the biggest problems especially with longer hair. Customers are looking for products that are really going to care for their hare whilst detangling with ease so that they can achieve the latest summer looks."
To complement the Macadamia No Tangle, Hairtrade has also introduced the No Tangle Brush, which utilizes a unique 'flex bristle' design that gently diffuses tangles and knots, painlessly and safely detangling hair.
The remarkable bristles eliminate pulling, split-ends and breakage. The No Tangle brush is so gentle that cuticle damage is minimized, helping protect the vibrancy, shine and longevity of color treated hair.
It is also recommended for us on fragile or chemically treated hair and it is also safe for us with hair extensions.
The Macadamia No Tangle pre-styler is available in two sizes, 100ml and 250ml, perfect for trialing the product first, and the No Tangle brush is available in two colours.
The Macadamia No Tangle range is available now from hairtrade.com along with the full Macadamia Natural Oil collection.
About Hairtrade:
Established in 2005, Hairtrade (owned by I&K International Limited) is now one of the leading distributors of online hair care and beauty products across the UK and Europe. Hairtrade provides a wide range of hair extensions (http://www.hairtrade.com/), hair care products and hair electrical brands.
Hairtrade provide a wide range of 100% human hair extensions mainly, human hair weaves, I&K clip in Hair Extensions and pre-bonded hair and European hair extensions. Among its top brands are I&K 100% Human Hair and Remy Hair, Top Model and Jessica Simpson hair. In addition to its 100% human hair extensions the company also provides synthetic hair extensions, wigs, hairpieces, hair extensions accessories and tools, as well as an extensive range of hair care products from brands such as Tigi, Loreal, Schwarzkopf, Goldwell, Matrix, Fudge, Keune, Sexy Hair and many more.