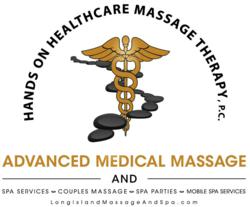 We see so many people that suffer from chronic widespread pain and tenderness in muscles, joints and soft tissue and complain of fatigue and sleep disturbances
Commack, Long Island, New York (PRWEB) April 28, 2013
There is good news for Long Islanders who suffer from Fibromyalgia pain. Hands On HealthCare Massage Therapy, P.C. is now offering complimentary evaluations to help determine if Medical Massage Therapy can help relieve their pain.
Fibromyalgia syndrome, is one of the most common chronic pain conditions, affecting millions of people in the United States and worldwide. Several studies indicate positive results on the effectiveness of manual lymph drainage (MLD) in the treatment of pain relief, stiffness, sleep and general health status. MLD is one of the advanced medical massage techniques offered at Hands On HCMT.
Although Manual Lymph Drainage is referred to as a massage modality, the pressure applied with manual lymph drainage is much lower in intensity compared to traditional massage. The amount of pressure needed in MLD is sometimes described as the pressure applied stroking a newborn's head.
Marla Kaplan, the owner of Hands On is a Licensed Massage Therapist and a Certified Lymphatic Therapist. Kaplan states, "We see so many people that suffer from chronic widespread pain and tenderness in muscles, joints and soft tissue and complain of fatigue and sleep disturbances. These are often symptoms of Fibromyalgia Syndrome." Hands On HealthCare Massage Therapy recommends that people not engage in self-diagnosis. Kaplan continues, "A proper diagnosis is key. Always obtain qualified medical advice from your medical doctor before undergoing any treatment."
Hands On HealthCare Massage Therapy and Wellness Day Spa has been serving the Commack Community since 2000. Hands On HealthCare Massage Therapy is a recognized leader in Advanced Medical Massage in Suffolk County, Long Island. Medical Massage is often the answer regarding Pain, Injury and Disease. Hands On offers Pre-Natal and Post-Natal Massage, Sports Massage, Trigger Point Therapy, Myofascial Release, Manual Lymph Drainage and is a Recommended Community Provider for Memorial Sloan-Kettering Cancer Center. The Spa Services Division offers spa treatments such as facials, skincare, microdermabrasion, body treatments, permanent makeup and para-medical cosmetics and cellulite reduction through ultrasound cavitation (Cavi-Lipo). The Wellness Day Spa has an extensive Couples Massage Spa Date Menu. Spa Parties are a specialty. An array of services and packages are available for both on and off-site. Beyond the Spa Services include off-site on-site workplace of event Mobile services which include bringing the day spa to the doorstep at home, venue or corporate function. Common events include Bachelorette Parties, Showers, Birthdays, Bar and Bat Mitzvahs, Sweet 16 Corporate Events and functions. Hands On HealthCare Massage Therapy claims it's Licensed Massage Therapists and Estheticians provide clients with the ultimate experience in attention, service and care.
Hands On HealthCare Massage Therapy and Wellness Day Spa
Marla Kaplan-Pelle, Licensed Massage Therapist, Certified Lymphatic Therapist, Director
208 Commack Road, Commack, NY 11725
631.462.4263