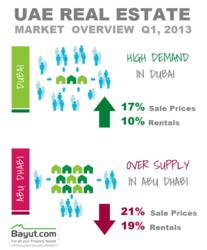 2013 would be the year of profound recovery for the UAE and Dubai real estate sector.
Dubai, UAE (PRWEB) April 28, 2013
Bayut.com, one of the leading UAE and Dubai real estate portals, has recorded impressive stats depicting an upward trend in the market. This trend further strengthens the fact that the recovery which was previously restricted to mainly posh areas in Dubai is now becoming more widespread.
Influx of New Tenants Pushes Dubai Rental Prices Up
Although there is a general bullish trend in the overall performance of UAE's economy but Dubai real estate sector in particular had a spectacular Q1 where a rise in demand was noticed in the rental sector. This higher demand further pushed the rental prices up for both villas and apartments in Dubai and as compared to their performance in Q4 2012, rental price hike for apartments and villas in Q1 2013, as per Asteco's report, was 21% and 19% respectively. According to a report published by Jones Lang LaSalle, Reidin Rental Indices show that as compared to their performance in Q1 2012, Dubai rental prices increased by 10% in Q1 2013.
The influx of new tenants with a preference for villas in Dubai helped villa rental prices touch their peak value in February 2013, which was even higher than their pre-crisis highs. For apartments, Bayut.com's data shows a 13% spike in average apartment rental prices in Q1 2013. However, things are not fully back on track as rental prices are still 26% lower than the pre-crisis peak recorded in January 2009.
Property Sale Prices Continue to Rise in Dubai
Currently, the UAE in general and Dubai in particular are experiencing a population growth, as per Merrill Lynch's report of July 2012. The increasing number of job opportunities in the Emirates is attracting expats from all over the world. This influx of population is giving a push to both rental and sale prices in Dubai.
The spike in sale prices of Dubai property is far more significant than the increase in rental prices. As per Bayut.com stats, studio apartment prices in Dubai experienced an increase of 26.91% in the first quarter of 2013, which is a significant rise in such a short period of time. It could be because of the recent trend observed in Dubai where instead of leasing a property, people have now become more inclined towards buying. One of the possible reasons behind this phenomenon could the mortgage cap law.
There is a limited supply of villas in Dubai which, coupled with their high demand, has pushed their sale prices up continuously. Stats reveal that villa prices in Dubai have increased by 5% q-o-q basis. Bayut.com's data shows that the average price of a 4+bedroom villa, which hovered around AED 8.53 million at the start of the year, jumped to AED 9.60 million in March 2013 by recording a rise of 11.18%.
Polarization in Abu Dhabi Realty Sector Continues
Abu Dhabi's realty market continues to paint a mixed picture. While on one hand, there are areas in Abu Dhabi where both rental and sale prices are increasing, on the other hand, prices continue to fall in most parts of the city. With this, Abu Dhabi property market has become more polarized where, after experiencing a strong demand, the property sale prices in high end areas have gone up by 25% as per Cluttons Q1 report. For the older units however, the situation is deteriorating and a continuous downward trend is seen in both rents and prices.
During the last two quarters, Abu Dhabi government has announced an array of large scale projects which have helped build a general sense of optimism in the market. It however has done little to prevent the overall Abu Dhabi real estate sector from becoming buyer-friendly. Real estate experts at Bayut.com revealed that Dubai real estate market underwent the same phenomenon some 8-10 months ago where prices in high-end areas, like Dubai Marina, were on the rise even though prices were continually dropping in low-end areas. Ten months later, Dubai has shaken it off completely and the state is now headed towards a more profound recovery.
Sale and Rental Prices Falling in Abu Dhabi
Data released by Bayut.com shows that while rental prices increased in Dubai real estate sector, Abu Dhabi showed a downward trend. The sharpest decline was seen in the annual rents of 4+ bedroom apartments in Abu Dhabi which fell by 21.73%. The same was true for villas in the UAE's capital. The average rent of a 3-bedroom villa was AED 165,480 at the start of 2013 and it fell to AED 139,110 in March 2013. This was a sharp fall of around 18.97% recorded in a rather short duration. Oversupply, which is a constant problem in Abu Dhabi, has had adverse effects on both sale and rental prices in Abu Dhabi.
As per Cluttons, the oversupply and low demand of older units is pushing the prices of properties in Abu Dhabi down. As per Bayut.com stats, average price of 2-bedroom apartments in Abu Dhabi was AED 1.19 million at the beginning of the year, and by registering a drop of 22.89%, this price fell to AED 972,246 at the end of March 2013. The condition for villas was no different. Sale prices for 2-bedroom villas in Abu Dhabi fell by 11.17% which is a huge loss within such a short period of time.
2013 would be the Year of Profound Recovery
The recovery which was previously limited to a handful of area in Dubai is now becoming deeply-rooted as its effects are becoming more palpable. On the basis of Bayut.com's data, it can be said that 2013 would be the year of profound recovery for the UAE and Dubai real estate sector.
About Bayut.com – Bayut.com is the leading Dubai real estate portal that is known for connecting general buyers, sellers, tenants and investors with the estate agents, brokerage firms and developers. With a number of accolades and honours to its credit, the site is also known to develop innovative and handy tools for its widespread local and international clientele.