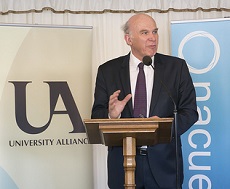 (PRWEB UK) 26 April 2013
Celebrating university support for student entrepreneurship, in London this month, Vince Cable, Secretary of State for Business, Innovation and Skills, recalled some painful history. When Warwick University opened its ground-breaking business school in 1967 there were protest both from students and across UK academia – business and learning should not mix and a university based business school was very unwelcome.
Forty years on times have changed and Dr Cable was able to describe how entrepreneur societies across UK universities are now "a real source of hope for the future." Not only are small entrepreneurial companies now seen as key to economic growth, but the need for universities to encourage entrepreneurship is now firmly established.
The event co-organized by NACUE and University Alliance at the Houses of Parliament was to launch 'Start-up: A Story' a publication showcasing ten graduate entrepreneurs, and to celebrate their entrepreneurial journeys and the work happening in universities to create some exciting new ventures and some commercially savvy graduates.
Read more on the IEDP website: http://www.iedp.com/Blog/Graduate-Entrepreneurs_Get_Start-up