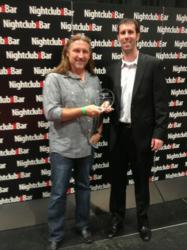 It is an honor to be recognized by industry leaders for our efforts in creating fun and energizing events for our guests.
LAKE HAVASU CITY, Ariz. (PRWEB) April 26, 2013
Nightclub & Bar Media Group recently presented the 2013 Single Party Promotion/Event of the Year award to London Bridge Resort's on-site club and dance venue, Kokomo Havasu – Beach, Surf and Party Bar.
The Nightclub & Bar Media Group's awards program is the premier nightlife-industry recognition program, applauding excellence in concept development, operations, promotions, innovation and success.
This award was bestowed upon the popular Lake Havasu bar for its 2012 World Jet Ski Finals Pro Party held last October. Developed and managed by Dallas Finch and Danny Finch, this annual event marks the unofficial end to the IJSBA World Jet Ski Finals and extended summer season in Arizona. The 2012 Pro Party featured industry-sponsored Lake Havasu events, including hot-wheel drag races as well as world-class water-trick demonstrations and performances in the pool by jet ski professionals.
"Guests were awed by the experiential value that this event created," said Cal Sheehy, Vice President of London Bridge Resort and Kokomo.
Kokomo is a longtime Lake Havasu bar hotspot, located at the base of the world-famous London Bridge and Bridgewater Channel. Featured on TV shows such as "Wild" on E! and MTV's "Spring Break," Kokomo offers a place to party in a multiple-level outdoor bar and nightclub with space for more than 3,000 attendees.
Kokomo Havasu – Beach, Surf, & Party Bar is open seven days a week starting at 11 a.m. and features:

A main stage overlooking the pool deck
Multiple dance floors on four levels
Live DJs playing the latest Hip-Hop, Top 40, Trance and Retro hits
World-famous house drink "Tremor" and daily specials
Views of the Bridgewater Channel and London Bridge
Vacationers and locals alike can enjoy a day catching rays poolside or a night of fun-filled entertainment and events. Resident DJ Robbie Rob is a Lake Havasu party favorite, but the bar also hosts top-named entertainment and guest DJs on a regular basis.
"Kokomo Havasu is the leader in producing outrageous events that leave a great impact on our guests," said Dallas Finch, General Manager. "It is an honor to be recognized by industry leaders for our efforts in creating fun and energizing events for our guests."
Find out more about this Lake Havasu bar and club by visiting: http://www.kokomohavasu.com or calling (928) 855-0888.
About London Bridge Resort
London Bridge Resort is a centrally located lodging option offers a number of conveniences that stand out among leading hotels in Lake Havasu, Arizona. Newly remodeled in 2011, the resort features a brand-new Splash Pool and Waterslide, and a fitness center. Guests can enjoy comfortable accommodations and recreation opportunities, including jet skiing, fishing, boating, jeep tours, hiking and more.
Additionally, London Bridge Resort is situated just 20 minutes from Lake Havasu's City Airport and other local attractions, including movie theaters, fishing charters and golf courses.
Learn more about the London Bridge Resort and the upcoming events in Lake Havasu by visiting http://www.londonbridgeresort.com or calling 866-331-9231.
###