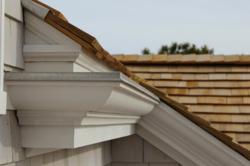 Millville, NJ (PRWEB) April 28, 2013
The PVC Boston Gutter System offers the full aesthetic appeal of wood with strength and durability, but it weighs less and has more carrying capacity than a standard wood gutter. PVC is easy to install, with no special tools required. With no painting, no oiling, no worrying, the Boston Gutter System is maintenance-free.
Made of extruded cellular PVC and tested by an independent lab, the Boston Gutter System is competitive in price. Gutters are available in 10 and 20-foot lengths, with a bracket system to hang and float. System includes 90° splice kits for inside and outside corners, 180°splice kits, end cap kits and copper down spout outlet kits are also available.

Extruded Cellular PVC
Full Aesthetic Appeal of Wood & Competitive in Price
Tested and Engineered by Independent Lab
Available in 10 and 20 Foot Lengths
90° Splice Kits For Inside and Outside Corners & 180° Splice Kits
End Cap Kits
Spout Outlet Kits
Bracket System to Hang & Float Gutter
All Seams Utilize 3M Seals
Can be Painted (LRV Greater Than 55)
For more information about INTEX and their products/services, please visit http://www.intexmillwork.com
About INTEX Millwork Solutions
INTEX Millwork Solutions specializes in the manufacture of high quality, maintenance free architectural millwork products. In addition to their standard product offering, their technical capabilities make them the 'go-to' company for those difficult projects that require job specific engineering and design assistance. INTEX's strength in both traditional workmanship and engineering technology crafts intricately detailed, high-quality millwork for distinctive homes and buildings.