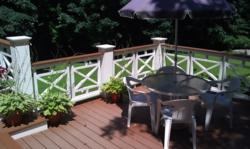 Millville, NJ (PRWEB) April 29, 2013
INTEX Millwork Solutions of Millville, NJ is proud to announce the availability of a new pricing tool on their website for their railing systems. The new Quick Quote pricing tool has the ability to calculate the appropriate hardware, baluster count and rail section lengths needed to complete a job with minimal waste, while populating a consolidated quote form at list price complete with drawings for the selections made.
"At INTEX, we are continually developing new tools and processes to make our products easy to understand and work with," says owner of INTEX Millwork Solutions, Joe Umosella. "Our goal is to make every customer experience value added and hassle free."
The new pricing tool allows the user to select the rail style, baluster style, newel post style and newel cap style for INTEX's Dartmouth Extruded Rail System or the Nautilus Milled Rail System. Once the selections are made, the user then enters the attributes such as radius, stair rail, Chippendale inserts, section length and height for each rail section on the project. As these different attributes are entered, the system will calculate all of components required to complete the job with minimal waste, and delivers a quote complete with a display of drawings for the selections made.
Both beautiful and functional, an exterior railing system can be stunningly elegant, classically simple or designed as a wrap-around with real curb appeal. INTEX's two exterior railing systems, the Dartmouth and the Nautilus both add distinction and definition to homes and outdoor living spaces. The Dartmouth Extruded Rail System offers outstanding strength in a range of beautiful standard designs. These components come pre-finished in white and carry a 10 year paint warranty. The Nautilus Milled Rail System components can be custom crafted to meet individual design specifications. They are delivered sanded and primed, and ready for a finish coat.
For more information about INTEX and their products/services, please visit http://www.intexmillwork.com/
About INTEX Millwork Solutions
INTEX Millwork Solutions specializes in the manufacture of high quality, maintenance free architectural millwork products. In addition to their standard product offering, their technical capabilities make them the 'go-to' company for those difficult projects that require job specific engineering and design assistance. INTEX's strength in both traditional workmanship and engineering technology crafts intricately detailed, high-quality millwork for distinctive homes and buildings.