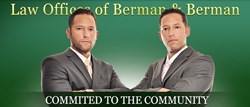 File a mirena lawsuit with the Berman Law Group today, call 1-877-529-8995
Miami, Florida (PRWEB) April 28, 2013
The law offices of Berman and Berman are now representing clients who may have been affected or harmed by the Mirena IUD. The partners of Berman and Berman will provide legal representation for clients across the United States. They are able to represent clients all over the world who have been allegedly harmed from using the drug and want to file a Mirena lawsuit.
The Berman and Berman law group consists of personal injury attorneys who have built an esteemed reputation over time through their legal endeavors and fair representation of the clients they serve. "With offices in Boca Raton and Stuart, a driving desire to be among the top attorneys in the United States, and client service throughout Florida, we strive to treat you like our friends and neighbors. We work diligently to identify and understand our clients' personal needs," said Russell Berman of the law Offices of Berman and Berman. Contact them today at 1-877-529-8995 if you may have been injured using the IUD Mirena.
Mirena IUD is used for pregnancy prevention for up to 5 years in women and it is a progestin intrauterine device. It is known to prevent sperm from reaching the egg and also change the lining of the uterus to prevent implantation in the uterus if an egg is fertilized. Some of the side effects that may occur are the following: difficulty breathing, tightness in the chest, swelling of the mouth, face, lips, or tongue, chills, fever, mental or mood changes (eg, depression), missed menstrual period, painful sexual intercourse, prolonged heavy menstrual bleeding, severe or persistent headaches and more. For more info, please visit: http://www.mayoclinic.com/health/mirena/MY00998 . If you have experienced severe side effects from taking this drug, contact the Berman Law Group today to see if you may have a potential Mirena lawsuit claim at 1-877-529-8995
To contact the Law Office of Berman and Berman and see if you may have a Mirena lawsuit case, call them at 1-877-529-8995 or visit their website where clients have 24 hour access to email, phone, or live chat on the website. Contact the Berman and Berman law group, where justice will be served.