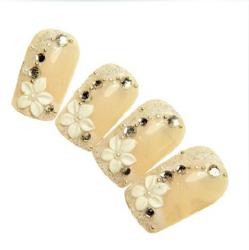 (PRWEB) April 27, 2013
Dig Nail newly announced the addition of a nail tips section to their online store. By adding a large collection of nail tips suitable for different nail art lovers, Dig Nail is now a one stop store for nail art supplies. The store carries nail tips in various styles and shapes, including the most popular styles from Japan, Korea, China and France.
Nail tips are not a replacement, but an extension to decorate original nails. Everyone's nails have their own shapes and features, but everyone could own a beautiful long nails with the decoration of nail tips, which won't cause any damage to human's health. Dig Nail carries nail tips in various colors, from single color such as pink or yellow to mixed colors, in both half size and full cover.
Dig Nail offers full range of nail art supplies at affordable price; all products are quality guaranteed with strict testing before sale and simple return policy after sale. The manager of DIG Nail, Steven said:" Dig Nail only carries top quality products, we are trying our best to make shopping as easy and enjoyable experience for all nail art loves."
About Dig Nail
Dig Nail is an online retailer specialized in nail art supplies, from nail dryers, printers, drills, nail polish to nail tips. Dig Nail retails popular brands from Japan, China, Korea and France.
Website: http://www.dignail.com/