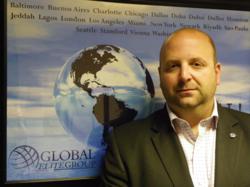 Global Elite Security programs and trained security agents provide control in every situation to keep people and assets safe.
New York, New York (PRWEB) April 26, 2013
Global Elite Group, Inc., (GEG) announced Bryan Davis has been promoted to head growth initiatives for the company's Event Security and Charter Aircraft Security Services departments. Davis has been with the company since 2011 and is responsible for the expansion of security programs for charter aircraft clients and event management. "Security for events and charter aircraft travel for executives and athletes is a growing area of need. GEG has been specializing in providing businesses and high profile travelers with customized protection services to meet the security goals in a changing world, for a decade," stated William McGuire, President & CEO of Global Elite Group.
The best practices approach for security services from event management to charter aircraft travel is part of a broader offering of security management GEG provides throughout the world. "We institute the same detailed approach to security offered on a larger scale at airlines and travel hubs into procedures designed to keep people and assets safe at our events. There is a host of concerns beyond obvious security issues which can cause a disruption from fan issues to an unruly crowd, depending on the attending audience," McGuire explained. The programs, along with GEG trained security agents, provide a great deal of control in every situation they handle. "GEG has seen tremendous growth in this area of its security services driven by safety concerns, regulations and liability. GEG also provides specialized charter aircraft security services to sports teams across the nation during peak sporting seasons and tournaments. We have the advanced equipment and highly trained professionals to get the job done right and on time," stated Davis.
About Global Elite Group: With offices located throughout the world, the company provides security and emergency management services for companies of all sizes and is known for its emergency contingency planning in all markets and its aviation security programs for over 28 airlines located in the U.S. and abroad. The company is always expanding service offerings to compliment the security needs of individuals, companies and high profile travelers. The company is TSA certified to provide screenings to individuals and groups. Global Elite Group is a full-service event security management company with security details available for deployment to cover small venues to large-scale multi-location events. Other services include risk assessments and asset protection.