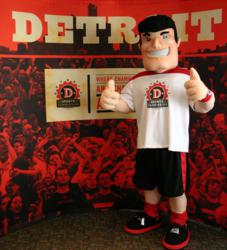 Our mission is to enhance the local economy by hosting sporting events and this honor is a reflection of the hard work our team puts in to make sure Detroit remains in the conversation as a popular destination. Dave Beachnau
Detroit, MI (PRWEB) April 26, 2013
The Detroit Sports Commission (DSC) was recognized by the National Association of Sports Commissions (NASC) yesterday during the 2013 NASC Member Awards Luncheon in Louisville, KY. The DSC was the recipient of the Outstanding Marketing Campaign, an honor given to an active NASC member that promoted their organization as a sports destination with the most outstanding comprehensive marketing campaign.
"We're extremely honored to receive this special award from NASC and its nearly 600 members," said Dave Beachnau, DSC executive director. "Our mission is to enhance the local economy by hosting sporting events and this honor is a reflection of the hard work our team puts in to make sure Detroit remains in the conversation as a popular destination."
The DSC submitted its successful mascot campaign it promoted nearly a year ago. The campaign, which involved the creation and unveiling of the DSC's mascot Champ, helped garner media attention and brand awareness.
Judging was based on the cohesiveness of marketing pieces, production quality of marketing collateral and creativity of the campaign.
In 2009, the DSC received the Outstanding Locally Create Event/Program award for the Detroit Sports Commission Prep Kickoff Classic, formerly known as the Big Day Prep Showdown.
"We first established the awards program in 2002 to recognize the good work that our members conduct in their communities. They are all making large contributions through the economic impact of their events and the leadership and expertise they provide," said Don Schumacher, NASC executive director.
Learn more about the DSC at detroitsports.org.