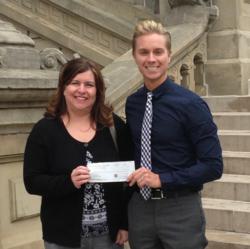 We wanted to lend a helping hand to those who have survived serious crashes and who are demonstrating resolve and determination to rebuild their lives.
Farmington Hills, MI (PRWEB) April 29, 2013
Michigan Auto Law has chosen the winners of its Car Accident Injury Survivor Scholarship, after reviewing many applications and essays submitted by students throughout the country.
The 2012 scholarship is for students who have overcome life-changing injuries from automobile accidents, and who are now pursuing an education. The law firm awards $500 to two student applicants, said Steven M. Gursten, head of Farmington Hills-based Michigan Auto Law.
"We understand how difficult it can be to recover after a serious injury, as our attorneys have been helping people injured in auto accidents for more than 50 years," Gursten said. "We wanted to lend a helping hand to those who have survived serious crashes and who are demonstrating resolve and determination to rebuild their lives."
Here's some background on the two scholarship winners:
Jessie Winter, Concordia University, Wisconsin
Jessie Winter is a Concordia University Occupational Therapy graduate student. In her scholarship application, Jesse said she was injured in an auto accident in Portage County, Wisconsin last July and went through emotional and physical hardships including months of physical therapy. When choosing to pursue an education in occupational therapy, Jessie said she never imagined she would be a patient of rehabilitative therapy herself.
While a passenger in a friend's car, Jessie sustained numerous injuries when an uninsured man driving hit the side of their car at an intersection. The driver admitted to abusing prescription and illegal drugs before borrowing a friend's uninsured vehicle, according to the car accident police report.
Because the driver and the car involved were not insured, Jessie received no additional compensation for her pain and suffering. She also said she has not received any wage loss benefits to cover her loss of income, since she could not work to pay for college expenses as she had in the past.
Due to the way her body twisted upon impact, Jessie said she was left with twisted vertebrae and torn muscles in her lower back, which made sitting through classes and carrying a backpack painful.
In her scholarship essay, Jessie put things into perspective:
"Telling people about the accident helped. If my story could make one person think twice about driving under the influence, speeding, not having insurance, or wearing a seat belt, it's more than worth it. I explained that no matter how perfect of a driver you are, there are other drivers you can't control, which is why insurance is so important."
Said Gursten, "Jessie's struggle to balance school and therapy has been difficult, yet she has managed to overcome this obstacle and use her experiences as a patient to become a better therapist. She's even used her experiences to talk to high school students about the dangers of impaired driving."
Sarah Gurd, Ferris State University, Michigan
Sarah Gurd is a nursing student from Ferris State University in Michigan. In her scholarship application, Sarah said she was injured in an accident in Kalamazoo, Michigan in 2002 and endured seven weeks of bed rest, several surgeries and physical therapy.
Sarah was a passenger in her family's vehicle, with her two children in the back seat. The driver who hit the car had no insurance, an improperly registered vehicle and was convicted of operating while intoxicated causing serious injury, according to the car accident police report.
Sarah said her life was dramatically affected during her recovery, including not being able to hold her son or even being able to dress herself. After years of physical therapy, Sarah said was able to walk normally again, but has limited range of motion.
Like Ms. Winter, Sarah also has used her experiences to talk to local high school students about the dangers of impaired driving.
In regards to the man who caused her accident, Sarah states in her essay, "Although he has never asked for forgiveness or exhibited remorse, I have chosen to forgive him. I sincerely hope that he learns from the sentence that was given to him…. My hope is that through listening to my story at least one individual will be positively affected."
Noted Gursten, "Michigan Auto Law is proud to recognize these outstanding students who have overcome serious injury while facing immense challenges."
Related information:
Help for students pursuing careers as personal injury attorneys
###
About Steven M. Gursten: Steven M. Gursten is an attorney and head of Michigan Auto Law. He is president of the Motor Vehicle Trial Lawyers Association and serves as an executive board member of the American Association for Justice (AAJ) Traumatic Brain Injury Lawyer Group. Gursten is also past co-chair of the Michigan Association for Justice Automobile Accident No-Fault Committee and past-president of the AAJ Truck Accident Litigation Group. He speaks at legal seminars across the country on insurance, No-Fault litigation and helping auto accident victims, and is available for comment.
About Michigan Auto Law: Michigan Auto Law has 18 lawyers exclusively handling auto accident and No-Fault insurance litigation throughout the state. The law firm has received the top-reported jury verdict for a car or truck accident victim for the past 15 consecutive years, according to published reports by Michigan Lawyers Weekly. Michigan Auto Law has offices in Farmington Hills, Sterling Heights, Detroit, Ann Arbor and Grand Rapids. For more information, call Michigan Auto Law at (800) 777-0028.