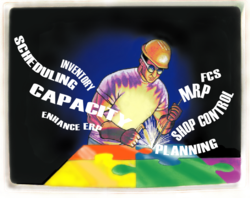 "Work Center Scheduling is key for better customer service"

- Jim Convis
Product Manager, User Solutions, Inc.
South Lyon, MI (PRWEB) April 30, 2013
Quick and Easy Implementation
Workcenter SchedulerXL is an ideal first step for any company wanting to get a better handle on routings, scheduling, and customer delivery times. Key benefits include: easy configuration and maintenance, finite capacity scheduling, planning with daily schedules for work centers, visual reporting of backlog and bottle neck analysis, WIP (Work-In-Process), throughput and work center utilization, job interruption and delay analysis. Workcenter SchedulerXL combines quick planning and 'what-if' capabilities with the ability to adjust for inevitable interruptions and delays to the planned schedule.
New Features recently added include being able to use the full capability of latest versions of Excel (up to one million rows of data!). In addition, simple buttons for running local reports have replaced a menu enabling customers to generate desired reports with one click of the mouse.
Compatible and Affordable
Workcenter SchedulerXL is only $490 for a single user and $990 for a site license. The product runs as an add-on to any version of Microsoft Excel and is available from http://www.UserSolutions.com or authorized resellers.
About US
User Solutions, Inc. was founded in 1991 to fulfill the genuine need for lower cost, easy to learn and use software solutions for the manufacturing and operations management markets. Their solutions, driven by direct customer demand, have helped thousands of companies worldwide become more efficient and profitable. For more information, or for a free trial, contact: http://www.UserSolutions.com or call toll free (800) 321-8737.