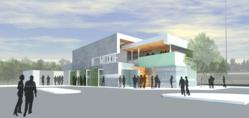 Atlanta, Georgia (PRWEB) April 29, 2013
Chef Tom Gray, a two-time James Beard Award semi-finalist, has selected ai3, Inc. to design his new restaurant venture. Scheduled to open in November 2013, Moxie Kitchen + Cocktails will be located in the Markets at Town Center, an upscale lifestyle shopping center adjacent to the enormously popular St Johns Town Center in Jacksonville, Florida. As architect and designer, ai3 will bring the rich local story between Gray and Jacksonville's culinary community to an unlikely space.
As the former executive chef and operating partner at Bistro AIX, Gray has been at the heart of Jacksonville's culinary culture for the last 13 years. The location of Moxie Kitchen + Cocktails is in stark contrast to his previous local venture, which was based in the history-rich neighborhood of San Marco.
At approximately 180 interior and 80 exterior seats, and just over 7,000 square feet, Moxie Kitchen + Cocktails will feature two stories and a dramatic open kitchen. Flexible walls and circular, custom-built booths will create intimate seating experiences throughout the space. Artwork and architectural elements will showcase local talent as well as the personal experiences of Gray and his wife and business partner Sarah Marie Johnston.
"We want to start a new chapter in our local story and, for us, that meant exploring unanticipated locations – ones that would allow us to introduce our craft and experiences to new people and on a new scale," said Gray.
As architect and designer, ai3 has been instrumental in helping Gray and Johnston crystalize their vision for Moxie Kitchen + Cocktails since they began collaborating in October 2011. Gray adds: "In addition to being impressed with the team's creativity, professionalism and experience, we've never been involved in a restaurant project where storytelling and personal interpretation was so intertwined in the design process. That's ultimately why we selected ai3 for this project."
"There's this idea that you have to be in a historical place to have personality and identity. We're challenging that notion. The scale and location of Moxie is allowing us to tell an authentic story that draws on Chef Tom's experiences both here and elsewhere," said Dan Maas, partner at ai3, Inc.
For more information on Moxie Kitchen + Cocktails, please visit http://www.MoxieFL.com. To follow the progress of the restaurant's design and construction, visit ai3's design blog at http://ai3inc.blogspot.com/ or follow ai3 at @ai3inc. For more information about ai3's design services, go to http://www.ai3online.com.
About ai3, Inc.
ai3's multi-disciplinary design services reveal the stories that give meaning and value to design. Through the exchange of ideas and thoughtful client dialogue, ai3 creates energetic, compelling designs across a wide spectrum of industries and geographies. To learn more about ai3's architecture, interior and product design services, please visit http://www.ai3online.com.