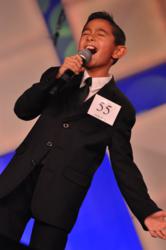 Jesus, meet me at the mic
Atlanta, GA (PRWEB) April 28, 2013
Ten year old singer Julian Silva from Plant City, Florida was cast as Gavroche in Les Miserables US and Canada Tour 2013. The tour performs in Schenectady, New York, April 30-May 5.
He got his year off to a great start at the Actors, Models and Talent for Christ Winter SHINE event where he won Overall Child Singer, and a few weeks later landed the role in Les Miserables that debuted March 5 and will continue touring all summer.
After belting out The Lion King's "Circle of Life" in front of 50 VIPs representing NBC, BET, VH1, 20th Century Fox, Tyler Perry, Sony, Mattel, DefJam, GMA and more, Julian received 18 callbacks and will sign with an agent after Les Miserables.
During SHINE he shared the stage with guest stars Mathai The Voice Season 2, Ben Stillwell Criminal Minds and Disney's Lab Rats, Alessandra Matkins model for JC Penney, Brandin Jay Tyler Perry's Meet the Brown's and Disney's Let it Shine, Kelsey Sanders, a regular on Wizards of Waverly Place and upcoming films: A Matter of Time and Rumors of Wars.
Julian met another famous person who is monumental to the beginning of his singing career: baritone Carlos Marin from Il Divo, the group created by reality TV star Simon Cowell. Julian was imitating this operatic pop vocal group when he was just 5 years old. His parents, Maria and Daniel Silva, said, "Neither one of us sings...so it's a pure gift...we got him singing lessons to find his own voice."
Julian performed in local theater musicals, several productions and won Novemberfest Idol after 4 days of competing against contestants as old as 65! He also played JoJo in Seussical the Musical at the Straz Center in Tampa, where one of the directors encouraged Julian to try out Broadway.
"So off we went to Broadway where Julian auditioned for Mary Poppins. Although he did not get the part, he got the attention of the casting director who requested he audition for Les Mis," stated Daniel Silva. He continued, "A few weeks after SHINE we received a call that they were casting Julian as Gavroche in the Broadway Tour... This was all God's timing because Julian matured and learned so much during SHINE."
With such passion for acting and singing, Julian has impressed the audience and his fellow performers with "Do You Hear the People Sing?" and "Look Down," two Gavroche songs in the 19th century Les Mis story. Wonderful reviews came in from the Chicago Tribune, "This new production of this masterpiece is refreshing, rethought and every bit as epic. Not to be missed," and, the The New York TImes, "Thrilling, spectacular and unforgettable."