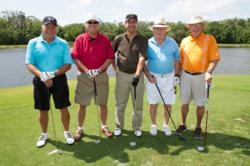 It was an absolutely beautiful day and we could not have asked for the weather to be more perfect than it was!
Clearwater, FL (PRWEB) April 27, 2013
Orthopedic patients filled up the Crescent Oaks Country Club in Tarpon Springs for The Florida Knee and Orthopedic Centers Patient Appreciation Day of golf and bingo. The fun began around 8:30 a.m. with everyone arriving to check in for instructions and a light breakfast before the adventure started. Excited patients enjoyed the spread of coffee, tea, juice, muffins and bagels—yum! It was then onto the golf carts and bingo tables for ready, set, let's go...
The golfers took off promptly at 9:00 for a shot gun start. There were more than fifty golfers in attendance and even more patients that had decided to opt-out of golfing and play bingo instead. It was quite a sight to see them all speed away in their golf carts, one after the other. Everyone was quite anxious to play golf with their favorite orthopedic surgeons, and play golf they did. It was exciting all the way and even a little more exciting when Dr. Amundaray came across an alligator invading one of his holes. Don't be alarmed though as there was no harm done, the alligator just came by to say hello, then he was on his way. "It was an absolutely beautiful day and we could not have asked for the weather to be more perfect than it was!" says FKOC.
While the golfers were out on the green, the FKOC staff gathered in the clubhouse with bingo playing patients. There was a full room of bingo players that came from all around the area including two very nice ladies that had driven all the way from Gainesville, both of which had received successful knee replacements from the expert surgeons at FKOC. Bingo started about 9:30 a.m. and Nurse Julie was the master of ceremonies for this event. Just about everyone in the room got to yell bingo at least once that day. Conversations were had, jokes were told and prizes were given of all different varieties such as gift cards and gift baskets.
Golf ended around 1:00 p.m. and everyone started to return to the clubhouse hungry for lunch. Both bingo players and golfers came together for lunch and socializing. Patients swapped success stories from hip and knee replacements, there was also talk of an excellent recovery from a shoulder arthroscopy and how happy the patient was to golf again. Lunch was a delicious buffet of deli meats, cheeses, breads, condiments, chips and more.
While everyone enjoyed their food, FKOC held their patient appreciation raffle. As the raffle ticket numbers were called out, winners were born one after the other. Prizes consisted of gift cards from Bonefish Grill, Publix and Carraba's. There were also bottles of wine, rounds of golf at Crescent Oaks Golf Course and gift baskets. Everyone that was in attendance that day also received a gift bag with all kinds of fun goodies. Pictures from this unforgettable event are available on FKOC's blog at http://fla-ortho.com/blog.
Needless to say, it was a FUN day for everyone. New friends were made and old ones rekindled. The event ended around 2:30 p.m. as everyone started to say their goodbyes. If you were not able to join in on all this fun, please make sure to come out the next time around. The Florida Knee and Orthopedic Centers host patient appreciation events like this quite often, especially when it means orthopedic patients can show off their skills after going through orthopedic procedures such as hip replacements, knee replacements, shoulder arthroscopy, meniscus cartilage transplants and more.
About The Florida Knee and Orthopedic Centers
The Florida Knee and Orthopedic Centers, established in 1983, has a national reputation for excellence in orthopedic innovations and state-of-the-art surgery. A team of orthopedic specialists treat patients at two locations on Florida's Gulf Coast. The Florida Knee and Orthopedic Centers is a multi-site group orthopedic surgical practice specializing in knee, hip and shoulder problems with an emphasis on joint resurfacing (replacement) and arthroscopy. You can learn more about this orthopedic practice by visiting their website at http://www.fla-ortho.com/.