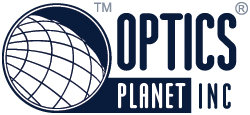 Northbrook, Illinois (PRWEB) April 26, 2013
OpticsPlanet.com has a history of providing top-quality shooting and tactical accessories. From sights to scopes and much more, they are continuously adding exciting new products to their expansive selection. OpticsPlanet.com offers a full line of Crimson Trace gear, and today, that line has grown even more with the addition of the Crimson Trace Defender Series.
OpticsPlanet.com first got a look at these new laser sights at SHOT Show 2013. After demonstrating the Defender Series and seeing the positive response, they hosted a giveaway for one of the units on their Facebook page. After this, the Defender Series went live on OpticsPlanet.com.
The Defender Series of red laser sights is Crimson Trace's latest and best value sight line. Offered at a lower price point for a variety of budgets, the Defender Series still provides top-quality Crimson Trace construction and a selection of lasers for several handguns. The DS-121 is a front-mounted Accu-Guard model with intuitive and ambidextrous N-Gage activation. The DS-124, on the other hand, is a grip-mounted Accu-Grip model designed for revolvers. All models in the Defender Series are ergonomically designed with beginning and intermediate shooters in mind – or simply for customers looking to get the best value in a laser sight.
With the addition of the Crimson Trace Defender Series, OpticsPlanet.com seeks to introduce shooters to a growing line of Crimson Trace laser sights. OpticsPlanet.com is consistently adapting to the changing market. With the new Defender Series, they anticipate strong approval from the shooting and sportsman community that they serve.
About OpticsPlanet, Inc.
Founded in 2000, OpticsPlanet, Inc. is the leading online destination for technical and high-performance gear. OpticsPlanet, Inc. serves demanding enthusiasts and professionals who are passionate about their jobs, serious about their recreation, and devoted to their service. Currently offering over 700,000 items from 2,500 brands in 300 niche specialty categories, OpticsPlanet, Inc.'s wide selection of riflescopes, holsters, sunglasses, flashlights and more combined with great prices, in-house customer service and a knowledgeable team of specialists has helped it grow into one of the largest online retailers in the world.
In 2012, the company was recognized for the sixth straight year by Internet Retailer Magazine as one of the top 500 e-retailers in the United States. OpticsPlanet, Inc. has also been recognized by Inc. Magazine as one of the top 5,000 fastest growing companies in the country, and the Better Business Bureau has ranked them as A+.
Some of the stores in OpticsPlanet, Inc.'s portfolio include OpticsPlanet.com, Dvor.com – the world's first members only store devoted to gear – EyewearPlanet.com, Tactical-Store.com, and LabPlanet.com.