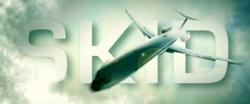 Oklahoma makes for a beautiful set, and I'm excited to see the end result [of the film]
Oklahoma City, OK (PRWEB) April 30, 2013
Oklahoma is set to take flight with the production of upcoming movie, Skid, based on the third installment in the Occupational Hazards series by Rene Gutteridge. In Skid, new airline spy Hank Hazard is blissfully unaware that his flight will bring an army of adventure. The cast and crew are currently on location and shooting in several key Oklahoma venues.
With several eccentric personalities onboard in Skid, leading man Hank Hazard must find a way to navigate through them all while filling the requirements of his job. Because much of the action transpires on an airplane, filming will take place at the OKC MetroTech Aviation Campus and Tulsa International Airport. Scenes will also be shot at Spartan College.
As an Oklahoma native, author Gutteridge relishes the thought of putting Oklahoma on the map as a filmmaking hotspot.
"Oklahoma makes for a beautiful set, and I'm excited to see the end result [of the film]," said Gutteridge. "It's amazing to see my words come to life right where I grew up."
While Oklahoma may not be considered a "Hollywood hotspot," its vast landscape has long made it a go-to location for many notable films, including:
●The Grapes of Wrath, 1940
●Rain Man, 1988
●Twister, 1996
●Elizabethtown, 2005
●Transformers, 2007
Skid is being directed by Ryan "Staples" Scott, owner of RYIT Creative, a film and animation company. After writing and directing various short films featured in film festivals around the country, Scott wrote, produced and directed his first feature length film, entitled Wolf Head, which is to be released nationwide in May, 2013.
Oklahoman Wil Crown landed the lead role of Hazard and is joined by fellow Oklahomans:
●Torey Byrne as Lucy Meredith
●Laurie Cummings as flight attendant GiGi
●Brett Bower as First Officer James Lawrence
Award winning stand-up comedian, Torry Martin, also makes an appearance as character, Eddie.
Grey Wolf Productions is producing the film and still currently looking for extras. If you're interested in being cast as an extra in Skid and can be on set for several days in Oklahoma City or Tulsa, please send your name, telephone number and photo to extras(at)katzkasting(dot)com.
About Rene Gutteridge:
Rene Gutteridge is the award-winning, best-selling author of more than eighteen novels. Her romantic comedy Never the Bride won the 2010 Carol Award for Best Women's Fiction. Her upcoming literary projects include the novelization of the motion picture Old Fashioned with Tyndale House Publishers and filmmaker Rik Swartzwelder. Her adaptation of her novel My Life as a Doormat is in development with Kingdom Pictures, and she is also a creative consultant for Boo, a film based on her best-selling novel, in development at Sodium Entertainment with Cory Edwards attached as director and Andrea Nasfell as screenwriter. Her screenplay Skid is currently in production with Grey Wolf Productions and is scheduled to begin filming in April of 2013. Rene teaches fiction and screenwriting at conferences across the country. She lives in Oklahoma City with her family. Find her on Facebook and Twitter or at her website, http://www.renegutteridge.com.