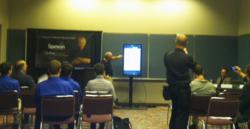 With the combined increases Triad has seen in productivity, efficiency, and on-time deliveries, coupled with decreases in wasted driver time, we expect to save up to $1 million as a direct result of implementing FleetLocate.
Atlantic City, NJ (PRWEB) April 26, 2013
Triad Isotopes, a nationwide radiopharmaceutical company serving the nuclear medicine and molecular imaging industries, reported that the company will save an estimated $100k in annual fuel costs as a direct result of implementing the FleetLocate Joe Gibbs Driver Performance Program at a press conference hosted at Atlantic City's Convention Center during NAFA's 2013 Annual Conference.
Triad partnered with Spireon Inc., the leading provider of Mobile Resource Management (MRM) and Business Intelligence Solutions, in early 2012 to deploy the FleetLocate Enterprise Management Solution on 450 vehicles used to deliver radiopharmaceuticals from the company's pharmacies to hospitals, clinics and nuclear pharmacy facilities located across the country. Back in August of 2012, the company announced an estimated savings of $0.5 to $1 million as a direct result of implementing the FleetLocate Tracking solution plus $357,000 in additional capital captured as a result of being able to reduce their fleet size.
"Our radiopharmaceutical products are time-sensitive," explains Kris Peterinelli, Triad's Director of Fleet and Pharmacy Logistics. "We have a small window of less than six hours to deliver our products before they begin to lose effectiveness. That's six hours from when we pull it to when it needs to be injected into the patient. So it's critical to our bottom line that we make our deliveries on time, while also maximizing route efficiencies and the productivity of our drivers." He continued to explain, "With over 50% of our employees on the road, adding a self-management tool to also improve their performance behind the wheel made perfect sense."
The FleetLocate Joe Gibbs Driver Performance Program is a co-branded program developed by Spireon's FleetLocate team and Joe Gibbs Racing designed to improve driver behavior and performance through positive reinforcement, recognition, and contest-based incentives.
"We designed the FleetLocate Joe Gibbs Driver Performance Program to enable positive change, deliver improved driver behavior through real-time trending feedback, and provide positive reinforcement and coaching by Joe Gibbs, the former Super Bowl-winning coach of the Washington Redskins and current owner of a three-time NASCAR champion racing team," said Rich Pearlman, Director of Product Management for FleetLocate at Spireon. "The Driver Performance Program will have a substantial positive impact on companies' bottom line just like we are seeing with Triad Isotopes, by curbing those driver behaviors that are costing them millions of dollars each year."
Pearlman gave a live demonstration of the game-changing FleetLocate Joe Gibbs Driver Performance Program, the industry's first and only contest-based program that improves driver performance and safety through positive reinforcement and incentives during the press conference.
The program allows fleet owners and managers to create seasons during which drivers and teams compete to score the highest rankings across a broad range of driver performance metrics including speeding, idling, hard braking, hard accelerating, miles driven and fuel consumed.
The demo covered key features of the program including real-time tracking of driver's and team's daily, weekly and monthly scores using a smart phone; an audio library of driving tips from three-time Super Bowl winning coach and championship NASCAR race team owner Joe Gibbs; and real-time management reports that allow fleet managers to identify opportunities for improved driver performance.
"With the combined increases Triad has seen in productivity, efficiency, and on-time deliveries, coupled with decreases in wasted driver time, we expect to save up to $1 million as a direct result of implementing FleetLocate," says Peterinelli.
Based on the success of the FleetLocate launch, Triad is now participating in the FleetLocate Joe Gibbs Driver Performance Program, and is seeing excellent results from this program too.
Peterinelli's presence at the press conference will give other enterprise owners the opportunity to evaluate the effectiveness of FleetLocate Enterprise Management from a customer's perspective. "We think our customers often do a better job of illustrating the bottom-line benefits of FleetLocate then even we do," Edwards adds. "This is a great chance for enterprise owners to pick the brain of a logistics executive of a successful company who's in charge of a large fleet of vehicles delivering time-critical medical supplies."
Spireon invites all NAFA conference attendees to join the company for the press release and live demo, as well as stop by the FleetLocate booth #900 throughout the event to ask questions and see additional demonstrations from the FleetLcoate team.
About Triad Isotopes
Triad Isotopes, Inc. is a nationwide nuclear pharmacy company headquartered in Orlando, FL. The company's national network of over 60 locations, including four cyclotrons that prepare PET doses, serves 4 million patients each year. This makes Triad the second-largest and fastest-growing nuclear pharmacy chain in the nation. These specialized facilities provide the products used by hospitals and nuclear medicine operators to diagnose and treat patients, primarily those with cardiac and cancer concerns.
Triad Isotopes' network of pharmacies positions the company to service national Group Purchasing Organizations and regional healthcare systems, as well as stand-alone clinics and hospitals. Triad's open formulary approach provides customers access to all radiopharmaceuticals available, allowing them to select formulas to best serve their patients.
Triad Isotopes provides the strength of national coverage while remaining closely connected to the communities they serve.
For additional information, please visit the Triad's website [http://www.triadisotopes.com/.
About FleetLocate
FleetLocate is a powerful, flexible and scalable information platform that provides continuous real-time visibility for fleets of all sizes. Featuring exception-base reporting, FleetLocate is an effective tool for improving operational efficiency and compliance by eliminating unauthorized vehicle usage, reducing fuel costs, increasing the number of loads per trailer, reducing the need and associated costs for rental trailers and reducing greenhouse gas emissions.
FleetLocate also provides the business intelligence to help fleet managers improve safety and affect positive changes in driver performance. The interface is simple to use, easy to navigate, and provides a comprehensive suite of reports designed to help businesses better manage their fleet operations and address many of the operational dilemmas they face daily.
For additional information, please visit the FleetLocate website http://www.fleetlocate.com.
About Spireon
Spireon, Inc., is at the summit of business intelligence and committed to going higher. With its technology center in Irvine, CA and its corporate headquarters in Knoxville, TN, the company emerged in 2011 as the industry leading Mobile Resource Management (MRM) company as a result of the merger of ProconGPS, Inc. with EnfoTrace and PFS, LLC, the top three providers in the MRM space. Spireon connects companies to their mobile assets and workforce through game changing information platforms, giving them the power to manage actionable business intelligence. Its trusted brands include market share leader GoldStar GPS®,EnfoTrace GPS™, FleetLocate®, VehiclePath™ and LoanPlus CMS™. Inspiring companies to reach new heights with powerful Software-as-a-Service (SaaS) based tools; Spireon provides a sturdy foundation on which to optimize performance.
With leading market positions in the fleet, transportation and automotive telematics markets, Spireon, Inc. specializes in developing strong business relationships with leading companies worldwide, enabling it to offer affordable world-class risk mitigation, mobile resource management and location based services to its customers. NSpire, Spireon's award-winning revolutionary, new multi-vertical M2M intelligence platform provides real time analytics, through a scalable architecture, supports over 1.5 million active subscribers today, and has collected 2 billion events over the past year. The NSpire intelligence platform collects rich data from its patented array of GPS products and delivers actionable business intelligence through industry brand for automotive dealers, lender services and delivery fleets, and transportation and logistics customers.
For additional information, please visit Spireon, Inc.'s website http://www.spireon.com.