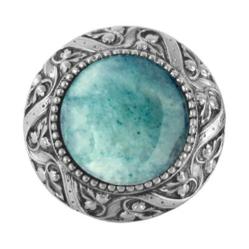 We loved the whole look of the collections
Pompano Beach, FL (PRWEB) April 30, 2013
In a typical Internet world, where everything is needed yesterday, The Notting Hill hardware hardware line is a refreshing change of pace. Here pieces are designed and manufactured by methods not typically used today, resulting in knobs and pulls that are truly jewelry for your cabinets and furniture.
And although most decorative hardware today is mass-produced and manufactured all over the world, there is a trend where artisans are designing and creating exceptional pieces of hardware right here in the U.S. Notting Hill uses manufacturing methods such as spin casting and hand finishing to create their product line. Add to it finishing touches such as 24K gold, semi-precious stones, and hand painting for a truly unique piece of decorative hardware.
"We loved the whole look of the collections," says Polly O'Hara, product manager for CabinetParts.com. "They encompass so many design eras that there should be something for everyone."
So the next time you want a new look for your cabinets, take the time in choosing something that is representative of who you are and what your design aesthetic is. You will find that Notting Hill is worth the wait.
Need some style guidance for designing a new look for your kitchen or bath? CabinetParts.com has thousands of knobs and pulls, organized by style, finish and size, to suit any decor.
Call 800-857-8721 or visit CabinetParts.com for more information.