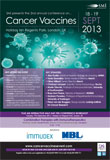 "Great focused meeting. Good range of speakers" – Inserm
London UK (PRWEB UK) 29 April 2013
This year's event aims to focus on innovation and novel strategies within the field, the regulatory environment, and the future direction of cancer vaccines; as well as offering current pre-clinical and clinical outlook, data, and case studies.
As cancer is still one of the greatest causes of human mortality it is a very attractive target for vaccination. Despite a dramatic increase in research within cancer vaccines in the last decade, there is still a need for more effective therapies to maximise cancer survival rates. Novel strategies for target selection, vaccine design, immunostimulatory therapies, and other biologics are constantly being developed and improved.
Cancer Vaccines, now in its 2nd year, will examine not only the current clinical data but also the new innovations within the field. This informative event will draw from expert opinions, groundbreaking data, and regulatory factors to look to the future and assess where the field is advancing.
Attendees will:

Explore innovative and novel strategies, approaches, and vaccines within the field.
Discover future trends, the direction of the field, and combination strategies in both preclinical and clinical situations.
Evaluate the regulatory environment and the subsequent impact on cancer vaccine development.
Consider current trial data, clinical developments, and successful therapeutic vaccines
Learn from successes, failures, and challenges from experts in the field, and apply to optimise vaccine development
Speakers include:

Alex Kudrin, Medical Assessor, Biologicals Licensing, MHRA
Kevin Pollock, Senior Epidemiologist, NHS National Services Scotland
Martin Glennie, Professor of Immunochemistry, University Of Southampton
Pierre van der Bruggen, Group Leader, Ludwig Institute for Cancer Research
Rose-Ann Padua, Research Director, INSERM
Sonia Quaratino, Senior Medical Director and Immunology Advisor, Merck Serono
To download a brochure go online at http://www.cancervaccinesevent.com