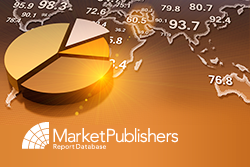 London, UK (PRWEB) April 26, 2013
Prostate cancer is the fifth most commonly diagnosed type of cancer across the world (around 500,000 cases annually). The global prostate cancer market has recently seen many advancement including launches of new products such as Xtandi (Medivation Inc. and Astellas Pharma Inc.) and Zytiga (Johnson & Johnson). Currently, these new drugs are competing for top status in both pre- and post-chemo disease settings as both products are poised for tremendous revenue even in spite of concerns of high treatment costs.
The worldwide market for prostate cancer is commonly divided into three following segments: drug therapeutics, diagnosis and screening, surgical and radiation therapy. The drug therapeutics segment is expected to increase at a CARG of 18% to climb from nearly USD 8 billion in 2012 to almost USD 18.5 billion in 2017. The diagnosis and screening segment is predicted to grow at a CARG of over 7.4% in the upcoming years to amount to almost USD 17.5 billion in 2017 if compared to USD 12 billion in 2012. The surgical and radiation therapy segment is likely to grow at a CARG of more than 9.6%, to increase from USD 9 billion in 2012 to above USD 14.2 billion in 2017.
New research report "KOL Insight: Prostate Cancer: Competition intensifies in race to the top" worked out by FirstWord has been recently published by Market Publishers Ltd.
Report Details:
Title: KOL Insight: Prostate Cancer: Competition intensifies in race to the top
Published: March, 2013
Pages: 135
Price: US$ 4,995.00
http://marketpublishers.com/report/diagnostics-diseases/cancer/kol-insight-prostate-cancer-competition-intensifies-in-race-to-top.html
The report offers a deep insight into the global prostate cancer market. It describes the top current and emerging development trends, analyzes the major factors influencing the market and reviews prominent advances of the industry. The study focuses on review of the late-stage pipeline products as well as examination of the effect on the future prostate management. The research report discloses essential information on the major market issues and portrays the actual industry state in detail. Moreover, the report provides insights form the key opinion leaders.
Report Scope:

Extensive overview of the actual state of the prostate cancer market: information on the prostate cancer etiology, symptoms, diagnosis, treatment; examination of the current treatment landscape; data on reimbursement of key prostate cancer brands; estimation of the unmet needs in prostate cancer.
In-depth description of current therapies.
Detailed review of the pipeline therapies.
Discussions of the future developments in prostate cancer market.
More new research reports by the publisher can be found at FirstWord page.