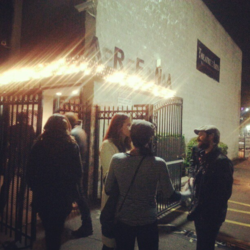 Intimate cinemas like Arena will keep movie-going for indie film enthusiasts content.
Los Angeles, CA (PRWEB) April 30, 2013
Arena Cinema Hollywood, a new 92 seat commercial venue for independent films, invites distribution companies, filmmakers and producers with recently completed feature length films to submit entries for upcoming theatrical exhibition release in the influential Los Angeles market. The intimate cinema venue is designed to serve a growing need in the entertainment industry for economical and successful ways independent films can be exhibited and concurrently for filmmakers to self-distribute their films.
The access to affordable prosumer cameras and post-production software has effectively given filmmakers all over the world the ability to make feature films at a very low cost. However, this has also created a gamut of films competing for screens at a time when art house theaters are reducing in numbers.
Distributors such as IFC Films, Tribeca Film, First Run Features, Breaking Glass Pictures, Mousetrap Films and Kino-Lorber have been quick to embrace Arena Cinema and what it offers them, since its December soft-launch opening.
Christian Meoli of Voltaire Media, who runs and operates the cinema and stated the following: "I felt there was a need in Los Angeles for a smaller venue that worked economically for all involved and could commercially present independent films for one and two-week runs." Meoli has seen too many distributors and filmmakers, producing very worthy films, become paralyzed as to what they should do for theatrical exhibition and with Arena Cinema, they can go-direct and distribute in an affordable manner in the entertainment capital of the world.
The Arena is modeled to present one-week theatrical runs, which is in accordance with the specifications from media outlets such as the Los Angeles Times for garnering reviews and aligns with recent Academy Award rule changes, which stipulate that qualifying films receive reviews from the New York Times or the LA Times to qualify. Christian Meoli said that the theater's four-walling option (that is, self-distribute or pay for your exhibition without help from a distributor) was used by 6 films so far in 2013, and each one of them got a LA Times and LA Weekly review.
ABOUT VOLTAIRE MEDIA
Voltaire Media is a full service media company that specializes in Entertainment and Media Services in Los Angeles and nationwide. Our focus is on digital marketing strategy, brand identity development, corporate design, social media, strategic marketing concepts, SEO analysis, traffic acquisition, for clients in film, theatre, music, photography and television entertainment. We also procure and negotiate distribution and licensing in all platforms for completed films. We create strategic media campaigns, digital media planning, community relations and brand management, online reputation management, social network marketing, social media, content syndication, promotions, website consulting/content development and online marketing.