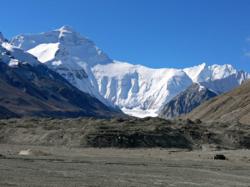 Join Tibet Everest tour which is arranged by local Tibet Tibet travel agency www.tibetctrip.com.
(PRWEB) April 27, 2013
When planning a Tibet tour, many travelers who plan to visit Mt. Everest are faced with a choice between joining a crowded group tour of 20-30 people and bearing the cost of a private tour. Tibet Ctrip Travel Service-TCTS, one Lhasa-based Tibet travel agency (http://www.tibetctrip.com) is working to improve low-cost travel in Tibet with its new Mt. Everest Budget Tibet Tour. Instead of packing travelers in with 20-30 other people, TCTS matches small travel groups with the same itinerary, cutting costs per person and preserving the flexibility and comfort of a private tour.
The tour being in Lhasa, the travelers' native Tibetan guide will meet them at the airport and accompany them on the shuttle bus to Lhasa. Once settled in at their hotel, travelers are encouraged to rest and relax while acclimatizing to the altitude. It is best to drink lots of water and avoid intense physical activity. Over the first full days of sightseeing, the travelers will visit some of Tibet's most important cultural and historical sites including Potala Palace and Jokhang Temple, along with Sera and Drepung Monasteries.
After exploring Lhasa and acclimatizing to the thin mountain air, the travel group begins the journey to Mt. Everest. The drive takes two days, and there are several opportunities to stop for pictures of the mountain scenery, including at Lake Yamdrok. Travelers will be able to learn about Tibetan Buddhism at Kumbum Pagoda and Pelkhor Monastery in Gyantse and also at Tashilhunpo Monastery in Shigatse. After an overnight stay in Shigatse, the Tibet travel group makes the final leg of the journey towards Mt. Everest, arriving in the afternoon.
Lucky travelers may catch a glimpse of the mountain upon arrival in the afternoon, although the best time is in the early morning. After arrival, the travel group is free to relax at one of the tent camps located near the base of Everest. In the morning, travelers will wake up early to enjoy closer views of the mountain. Afterwards, the travelers will return to Lhasa, making another overnight stop in Shigatse.
Mt. Everest is, without a doubt, one of the top travel destinations in Tibet. Not only is the mountain itself magnificent, but the scenery en route is unforgettable. TCTS advises travelers to bring extra camera batteries and memory cards. On a budget Tibet Everest tour with TCTS, the group is small, usually not more than 10 people, and the native Tibetan guides are knowledgeable and passionate about sharing where they come from. The best time of the year to visit Mt. Everest is right around the corner. Tours are available on a first-come, first-served basis, travelers are encouraged to start planning their tour now.
Devin Moore provided this news release above on behalf of local Tibet tour agency TCTS (tibetctrip.com). Devin is a travel writer and independent economic analyst based in Springfield, Missouri USA. His economic research is currently focused on airfare pricing. Devin Moore works to spread awareness of Tibet and its people through publishing Tibet travel information.