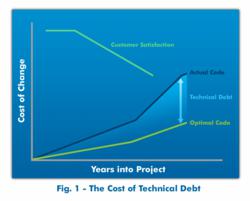 Austin, TX (PRWEB) April 28, 2013
CM First Group today announced publication of a new white paper, "Technical Debt – What is it Costing Your Company?" on the CM First web site. http://www.cmfirstgroup.com/resources/technical-debt-what-is-it-costing-your-company/. As experts in application modernization, CM First understands the need to clean up the technical debt incurred in business applications to make modernization possible, while also reducing the cost to run and the outage and performance risk.
"Customers tell us that technical debt is a significant barrier to moving forward with legacy code," says CEO Christoph Heinrich. "The reason most people live with problematic legacy code is the cost and time involved. We are seeing a market demand to automatically identify and remediate technical debt as part of legacy modernization efforts.
John Rhodes, CTO, concurs. "CM First is investing in tooling to help solve this problem. CM MetaAnalytics provides the kind of deep automated analysis that makes managing technical debt much easier. Not only does it cover multiple language domains and platforms, it also handles workload management code (JCL), data lineage, application and database connectivity, and code complexity information. Each of these areas can expose a company to business risk and cost, making modernization efforts such as moving to the cloud extremely difficult."
This white paper helps clarify the sources of the problem and documents ways to begin to 'reduce technical debt.' "If an IT department hasn't been reducing its application technical debt, the interest is costing the company," Rhodes says. Start paying it down today.