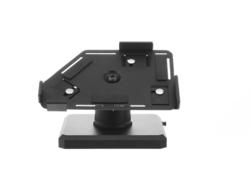 "Works with 7"-12" Tablets"
Simi Valley, CA (PRWEB) April 28, 2013
Solve-It! Store is proud to introduce the Pad Grip Universal. A POS stand solution for iPad point of sale or Android point of sale. It is compatible with any iPad, Android, and Surface tablet. Unique to the product is the ability to adjust for 7"-12" diagonal screen size tablets, making it the most versatile product on the market. Using simple thumbscrews, the user can adjust as necessary to accommodate their tablet. Also included are security screws with an allen wrench to deter theft by locking the adjustable arms in place. The Pad Grip Universal is available in many different stand configurations.
Pad Grip Universal Features & Specifications
7"-12" Diagonal tablet sizes, Large and Small
Engineered for use with all Credit Card Readers
Foam Padding to protect Tablet Surfaces
Security screws includes with allen wrench to deter theft
Easily adjustable using thumb screws
Optional Kensington® Click-Safe lock compatibility for high security (recommended for self-service or unattended solutions)
Access/Openings: Power, volume, lock orientation, front/rear camera on most tablets
360 degrees of swivel
70 Degrees of tilt
Designed for high-volume/commercial use
Easy cooling and access points
Riser accessory Compatible
Solve-It! Store is a California manufacturer of iPad point of sale stands and other tablet products.
Solveitstore.com