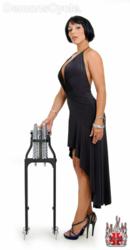 These new springer front ends are a great addition to our catalogue.
Pompano Beach, FL (PRWEB) April 26, 2013
Demon's Cycle Inc., a custom Harley motorcycle builder and custom motorcycle parts supplier, is pleased to announce the availability of its new range of springer front ends and springer front end risers for Harley-Davidson Softails.
The new springer front ends, which are available in black and chrome, have reinforced top and bottom trees that reduce flex and improve handling. They are made from TIG welded alloy steel, guaranteeing strength and durability, and are triple plated.
Customers can buy in confidence as the kit includes everything you need to replace an existing front end including the main spring; the fork leg; the neck; the top nut and crown nut; the rocker assemblies with brass bushings; and the top clamp.
The springer front ends are available in a variety of sizes and kits can be found which fit Harley-Davidsons right back to 1949.
Springer front ends require a different type of handlebar riser than other Harley-Davidsons and Demon's Cycle has taken delivery of a new range of risers for all the springer front ends that it sells. This new range comes in a variety of different heights and finishes including a chrome finish and even solid brass.
"These new springer front ends are a great addition to our catalogue of spare and replacement parts for HarleyDavidson Softails," said Tom Steinbacher, owner of Demon's Cycle. "Together with the new range of risers, our customers can customize the style of their motorcycles without spending a fortune."
Demon's Cycle is committed to offering the very best spare, custom and replacement parts at the lowest possible prices without sacrificing quality. These latest additions to its stock are a testament to the success of this strategy.
About Demon's Cycle
Based in Pompano Beach, South Florida, Demon's Cycle is an multimillion dollar international custom motorcycle wholesale parts company. It was started more than nineteen years ago by Tom Steinbacher and has developed a reputation as a pioneer of radical motorcycle designs, euro style bikes and custom Harley chopper concepts. As well as building custom motorcycles and selling rolling chassis, Demon's Cycle specialize in the sale of custom parts for Harley-Davidson
motorcycles. They offer a wide range of parts including handlebars, hand controls, tires, gas tanks and turn signals.
Contact
Demon's Cycle Inc.
1407 SW 10th Ave.
Pompano Beach, FL 33069
Telephone: 9549430000
Fax: 9549430377
Email: sales[at]demonscycle[dot]com
Web: http://www.demonscycle.com