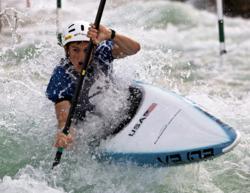 The line-up of activities for our Pre-World's Event will be terrific. From media professionals, to sports enthusiasts, to community families -- there will be something for everyone. - Deep Creek 2014 Executive Director, Todd Copley
(PRWEB) April 29, 2013
Deep Creek 2014, the host event production company for the 2014 Canoe/Kayak Whitewater Slalom World Championships, announces events and programming for the May pre-World's Test event and USA Team Selection to be held May 17-19 at the Adventure Sports Center International in McHenry, Maryland.
Deep Creek 2014 and the Adventure Sports Center International in Deep Creek Lake, MD will host the 2013 USA Canoe/Kayak Slalom Team Trials and Deep Creek Open on May 17-19, 2013. The Adventure Sports Center International is the world's only mountaintop recirculating whitewater course located on top of the mountain at WISP Resort.
Athletes from all over the US will be competing along with 3 Olympic Gold Medalists.
The USACK Senior Team Trials is open to USA athletes and will serve as the selection for the 2013 National Slalom Team.
Admission is free and there will be food, beer, and great music in addition to Olympic level whitewater action. This will be an event you won't want to miss!
In addition to the racing, Deep Creek 2014 announces these other activities:
Media Day -- May 17, 11am-2pm
Open invitation to all regional and local media outlets to come and learn about media opportunities and the significant impact of the World Championships on our region. The World Championships will put Garrett County on the world stage as we play host to over 40 international countries, 21.5 million broadcast viewers and the largest inbound sporting event to be held in the United States in 2014.
Media Day will feature a general presentation by Deep Creek 2014's Executive Director Todd Copley and will be followed by a VIP lunch at the Island Tent with a brief presentation by Joe Jacobi, US gold medalist and current CEO of USA Canoe/Kayak.
Media must pre-register by going to Media Day at DeepCreek2014.com. Special lodging rates are also offered through our WISP Resort partner.
Community Open House -- May 18, 11am-2pm
An opportunity for local businesses, civic organizations and Garrett County's general public to learn more about the preparations for the World's Event and see the infrastructure improvements necessary to host a World Championship. Recently Deep Creek 2014 and the Adventure Sports Center International were awarded a one million dollar State Bond to support necessary capital projects at the venue.
Includes a presentation by Executive Director of Deep Creek 2014, Todd Copley
Children's Adventure Series and Kids Day at The Races -- May 19, 11am-2pm
A great day for local and regional school aged children to come see the Adventure Sports Center International and have a chance to meet and see Olympic athletes and paddlers. Kids will get a great overview of the sport of Slalom Canoe and Kayak and have unlimited access to the interior Island and close viewing of the action. Admission is free and includes a free hot dog and drink for the kids. Come out to enjoy the fun!
The racing, fun and other events will certainly have something for everyone! Come out and join us for a day or for the weekend. Deep Creek Lake Maryland is the East Coast epicenter of adventure sports!
About Deep Creek 2014
Deep Creek 2014 is the host organization charged with producing and executing the 2014 ICF Canoe/Slalom World Championships at the Adventure Sports Center International. Deep Creek 2014 is also involved in crafting a longer term vision and business plan for establishing Deep Creek Lake Maryland as the Eastern United States' epicenter and hub of adventure sports and outdoor recreation. Included in that vision is the development on further ongoing adventure sport legacy events showcasing the regional communities, driving economic development and increasing tourism.
About Garrett County, Maryland:
Garrett County, Maryland's westernmost county, is the jewel of Mountain Maryland.
Centrally located within three-hour drive west from metropolitan Washington, DC and Baltimore, two-hour drive from metropolitan Pittsburgh, and a 45-minute drive from Morgantown, West Virginia and Cumberland, Maryland, Garrett County straddles the Eastern continental divide. Garrett County is home to Maryland's largest freshwater lake, Deep Creek Lake, its only ski resort, WISP Mountain Resort, and its highest peak, Backbone Mountain at 3360 feet.
About the Adventure Sports Center International, Inc.:
The Adventure Sports Center International, Inc. (ASCI) is a not-for-profit, 501(c)(3), charitable organization formed to promote adventure tourism and healthy outdoor lifestyles. ASC, Inc. operates the world's only mountaintop river park and has taken over 45,000 people rafting since it opened in 2007. In 2012, ASC, Inc. was wholly acquired by Garrett County and has since operated as part of the County Enterprise Fund under the leadership of the County Commissioners.
For more information about Garrett County, Maryland, Deep Creek 2014 and ASCI, Inc.
Visit: http://www.deepcreek2014.com and http://www.visitdeepcreek.com/ .