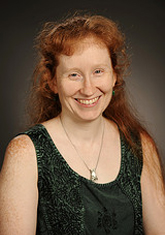 I strive to help my students understand that addressing women's health issues and eliminating health disparities are key to the health of our nation.
WASHINGTON, D.C. (PRWEB) April 30, 2013
The Society for Women's Health Research (SWHR) presented the 8th SWHR-Medtronic Prize for Scientific Contributions to Women's Health, to Mia Markey, PHd from the University of Texas at Austin during SWHR's 20th Annual Gala Dinner last night.
The SWHR-Medtronic 75K Prize is awarded to a female scientist in her early to mid-career, who has devoted a significant part of her work to sex differences research and has served as a role model and mentor for both colleagues and students.
Markey is an Engineering Foundation Faculty Fellow in Engineering, and the first engineer to receive the SWHR-Medtronic prize. She is an associate professor in the Department of Biomedical Engineering at The University of Texas at Austin and an adjunct associate professor of Imaging Physics at The University of Texas MD Anderson Cancer Center.
Markey leads a collaborative multi-institutional research team that is developing a decision support system for breast cancer survivors. Markey's decision support system will help survivors understand their likely appearance changes following breast reconstruction, enabling patients to determine the optimal surgery option for them.
"The best part about being a professor is the opportunity to introduce students to the excitement of research and to encourage them to apply their engineering talents to the grand challenges of our century," said Markey. "I strive to help my students understand that addressing women's health issues and eliminating health disparities are key to the health of our nation."
Said Phyllis Greenberger, SWHR's President & CEO, "The importance of studying sex-based biology is to identifying the biological and physiological differences between men and woman. The X chromosome exists in every cell, meaning that sex differences can arise anywhere in the human body, and can influence almost every disease or cognitive process. We congratulate Dr. Markey on her vital accomplishments to advancing sex differences research."
Markey's numerous awards recognition include honors from the American Medical Informatics Association, the American Society for Engineering Education, and the American Cancer Society. Markey's research on breast reconstruction outcomes is supported by grants from the National Institutes of Health and the American Cancer Society.
She is a Senior Member of both the IEEE and the SPIE, and the editor of Physics of Mammographic Imaging (Taylor and Francis, 2012). This new text gives an overview on the current role and future potential of new alternatives to mammography in the context of clinical need, complementary approaches, and ongoing research.
ABOUT:
THE SOCIETY OF WOMEN'S HEALTH RESEARCH (SWHR)
SWHR is a national non-profit organization, is the thought leader in research on biological differences in disease and is dedicated to transforming women's health through science, advocacy, and education. Visit SWHR's website: http://www.womenshealthresearch.org for more information.
MEDTRONIC
Medtronic, Inc. (http://www.medtronic.com), headquartered in Minneapolis, is the global leader in medical technology -- alleviating pain, restoring health and extending life for millions of people around the world.