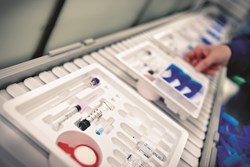 Bethlehem, PA (PRWEB) April 26, 2013
The B. Braun OEM Division (http://www.bbraunoem.com) of B. Braun Medical Inc., an FDA-registered, ISO 13485 provider of contract manufacturing services and components for medical devices and custom kits, now offers hypodermic needles and Safecan™ Safety Introducer Needles, for inclusion in custom kits.
B. Braun OEM Division's Sterican™ hypodermic needles are available in a wide range of gauges and lengths. They feature a smooth surface with a light silicone coating and a sharp, tri-beveled profile designed to promote ease of penetration. The transparent Luer lock needle hubs are designed to promote visibility. They are color coded for easy identification.
The Safecan Safety Introducer Needle is designed to reduce the risk of needlestick injury and promote OSHA compliance. It features a patented safety clip that covers the needletip upon user activation and a sharp, lubricated needle tip designed to minimize resistance during insertion and facilitate smooth vascular access for placement of a guidewire. They are available in 21G and 18G sizes, both with a 2.75-inch needle either with or without an echogenic tip to facilitate the needle location via ultrasound.
Working with B. Braun provides customers with access to the full complement of B. Braun OEM Division products and more than 700 standard kit components from nearly 100 validated and approved vendors. B. Braun OEM Division's packaging engineers can help configure a new tray or pack for a procedure, or customers may select an existing validated tray configuration.
Built on B. Braun OEM Division's decades of expertise and substantial capacity for producing custom kits, the contract service involves the accurate and cost-efficient packaging of components and, if specified, a customer's proprietary product to meet the unique requirements of the procedure.
B. Braun OEM Division also offers in-house printing, EtO sterilization, clinical lab services and regulatory guidance as part of its integrated team approach to improve coordination and communication, and expedite the development lifecycle.
For more information on custom kits, contact the B. Braun OEM Division toll free at 866-8-BBRAUN or visit http://www.bbraunoem.com.
About B. Braun OEM Division
B. Braun OEM Division (http://www.bbraunoem.com) delivers complete contract manufacturing capabilities focusing on fluid administration and admixture products, kits, valves, catheters and interventional accessories. OEM takes customers' designs from the earliest stages through design prototyping, assembly, packaging and sterilization. The B. Braun OEM Division of B. Braun Medical Inc. is based in Bethlehem, Pa.
About B. Braun
B. Braun Medical Inc. (B.Braun), a leader in infusion therapy and pain management, develops, manufactures, and markets innovative medical products and services to the healthcare industry. The Company is committed to eliminating preventable treatment errors and enhancing patient, clinician and environmental safety. Guided by its "Sharing Expertise®" philosophy, B.Braun continuously exchanges knowledge with customers, partners and clinicians to address the critical issues of improving care and lowering costs.
The B.Braun group of companies includes B.Braun, Aesculap® and CAPS®. B.Braun's U.S. headquarters is located in Bethlehem, Pennsylvania, with its global headquarters based in Melsungen, Germany. It employs more than 46,000 employees in more than 50 countries throughout the world. To learn more about B.Braun, visit http://www.bbraunusa.com.
###