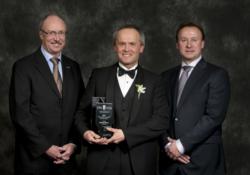 The CISC award recognizes exceptional talent and ingenuity in steel design and the innovative use of steel in addressing a variety of construction challenges.
Madison, Wisconsin (PRWEB) April 26, 2013
On March 21, 2013, Weir Canada Inc. was recognized as an industry leader when it won the prestigious Canadian Institute of Steel Construction ("CISC") Steel Design Award of Excellence – Industrial Category. The CISC Award celebration is held every two years to promote the structural steel industry within the Alberta region and across Canada. The awards recognize exceptional talent and ingenuity in steel design and the innovative use of steel in addressing a variety of construction challenges. The theme for this year's event was: "Leading and Shaping Our Future."
Weir Canada shared this honour with Suncor Energy, Hall Marine, Supreme Steel and Midwest Constructors for their collaborative efforts in the design, supply, delivery and launch of three reclaim water barges at Suncor's Facility in Ft McMurray Alberta Canada. Weir Canada's role was one of project leadership and engineering design, in addition to overall management of the efforts of its collaborative team of suppliers and customer. The TRO Water Barges are one of the largest pumping installations on water, in the Oil Sands, and they began operating in the Fall of 2012.
"Effective team collaboration, demonstrated creativity, innovation and co-operation in solving formidable design and delivery challenges is what made this project successful" said Peter Pavlin, Engineering Manager – Engineered Products, who accepted the award on behalf of Weir Canada.
"Weir Canada's modular approach to barge technology allowed us to take quantum leaps forward in barge systems technology…We provided our client with a functional asset, delivered in a timely and efficient manner" continued Peter.
Weir Canada is a leading supplier of pumps, hoses, valves, and other mineral processing equipment to the Mining, Power and Oil and Gas Sectors. Their latest acquisitions in rubber products in addition to their systems integration successes, has enabled the company to become an innovative equipment solutions provider to the mining, power and oil and gas industries.
+++++++++++++++++
About The Weir Group PLC
Weir, a FTSE 100 company founded in 1871 and headquartered in Glasgow, Scotland, is a global provider of engineering solutions to the minerals, oil and gas and power sectors. Our commitment to engineering excellence, research and customer focus extends equipment wear life and operational capability in some of the world's most challenging environments.
Weir is committed to going where our customers go, with a worldwide network of more than 200 manufacturing facilities and service centres. The business has a presence in more than 70 countries, with over 14,000 staff around the world working in three divisions; Minerals, Oil & Gas and Power & Industrial. Weir's customer base includes the world's largest mining houses, major oil services businesses and nuclear and conventional power generation companies.
Annual revenues were more than £2.5 billion in 2012, of which more than half came from the provision of services and aftermarket support. Emerging markets contributed 35% of overall Group revenues.
See http://www.weir.co.uk for further information.
About Weir Minerals
Weir Minerals employs nearly 7,900 people worldwide, delivering end-to-end solutions for all mining, dewatering, transportation, milling, processing and waste management activities. Annual revenues were more than £1.3bn in 2012. Weir Minerals has an advanced product range incorporating market leading brands (such as Warman® centrifugal slurry pumps, Geho® PD slurry pumps, Linatex® rubber products, Vulco® wear resistant linings, Cavex® hydrocyclones, Enduron® comminution equipment, Floway® Pumps vertical turbine pumps, Isogate® slurry valves, Multiflo® mine dewatering solutions, Hazleton® specialty slurry pumps, Lewis® Pumps vertical chemical pumps, and R Wales(TM) specialty rubber products) covering virtually any application, in any environment. The Weir Minerals global network ensures they are close to their customer wherever they may base their local operations.
For more information, visit http://www.weirminerals.com.