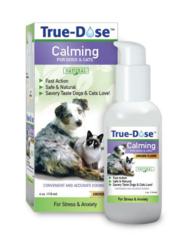 About 20 minutes after giving it to her, she was laying down with no anxiety or pacing due to the storm. Great Stuff!
Saint Louis, MO (PRWEB) April 30, 2013
April showers bring May flowers, but they also bring anxious, scared pets! True-Dose is proud to announce that customers have taken to the company's Facebook page to express their satisfaction with True-Dose Calming in thunderstorm season.
Client Nancy Lyons posted onto the True-Dose Facebook page: "True Dose Calming works great! We received free samples and a couple nights later had thunderstorms. We gave some to our Boston Terrier, who is terrified of thunder, and it worked like a charm. About 20 minutes after giving it to her, she was lying down with no anxiety or pacing due to the storm. Great Stuff!"
Calming has seen great success with thunderstorm season rolling into the Midwest this month. Thunderstorm phobia is quite common, especially in dogs. True-Dose Calming acts fast to help alleviate anxiety in pets.
True-Dose, an all-natural, liquid pet supplement made from human-grade ingredients, is specially formulated so that pets absorb an optimal amount quickly.
Signs of Thunderstorm Phobia in Pets
The reason for thunderstorm phobia varies from pet to pet, but fear of loud noises is probably the most common reason. However, other common causes include changes in barometric pressure and humidity. In addition, older pets may feel achy from arthritis and stiff joints. Symptoms of thunderstorm phobia in your pets include hyperactivity, destructiveness or reclusiveness. Many pets will pace, become clingy or show obvious signs of anxiety.
About True-Dose Calming
True-Dose Calming is one of the best-selling supplements in its product line. True-Dose Calming's special, all-natural formula of Chamomile, Valerian Extracts, Ginger Extracts and Tryptophan combine to rush relief to anxious pets. True-Dose's patented liquid delivery system guarantees fast absorption. Just pump the liquid onto your pet's food and your pet should see relief from symptoms in as little as 15 minutes.
Another client, Trisha Seelan, posted on Facebook: "While hiding in the basement last night, were you also trying to keep your furry little creatures calm as well? In case you are not already aware, there is something out there that can help you and the pets that you love in this sort of situation! Get True-Dose Calming for your pets. You can thank me later."
About True-Dose
True Dose, headquartered in St. Louis, MO, uses a patented system to produce high-quality natural supplements for canines and felines. Their products address joint care, skin and coat care, calming, wellness and dental care. True-Dose supplements are manufactured in a human-grade pharmaceutical facility, following the same strict testing and quality standards mandated by the FDA for state-of-the-art pharmaceutical product manufacturing. Their raw ingredients are certified and tested to ensure they meet strict quality standards. The founders of True-Dose have long had the goal of providing human-quality, pharmaceutical-grade products to our four-legged friends.
"All of our products are sourced and tested to human standards and manufactured in a pharmaceutical facility," said Joe Wayman, Founder and President of True-Dose. "Our goal with responsible sourcing is to ensure the same quality for pets that we expect for humans. Pets have now established themselves as part of the family, often considered to be like one of the children. True-Dose has a mission of better companion animal health with the understanding that pets have a tremendous impact on both the mental and physical health of humans."
True Dose ensures quality ingredients as well as accuracy and ease of dosage. True Dose products have been clinically proven to have faster absorption rate and higher peak concentration than tablets and chewables in a head-to-head crossover study conducted by the Oklahoma State University Veterinary Animal Science and Research Departments.