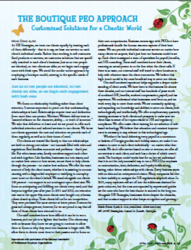 Customization is HR Strategies' key word, leaving the generic silo approach to other PEOs.
Duluth, Georgia (PRWEB) April 26, 2013
HR Strategies has been published--again! They are proud to announce their newest article in PEO Insider, NAPEO's trade magazine. NAPEO, the National Association of Professional Employer Organizations, is the largest trade association for PEOs nationwide. As a member, HR Strategies has access to resources such as networking opportunities, educational seminars, and industry support.
The PEO Insider, NAPEO's monthly publication, is made up of articles written by both NAPEO staff writers as well as PEO professionals all over the United States. The content and writers are chosen to further the growth and development of the PEO industry. NAPEO's editor has reached out to HR Strategies in the past, and you can find all of the articles they've had published on the Published Articles page of their website. In February, the NAPEO editor reached out again to HR Strategies to contribute an article regarding client retention and the "care and feeding" of client bases. HR Strategies' Vice President of HR/Client Services, MariaElena Ayala, provided an article detailing how HR Strategies comes at client retention from a boutique approach. Customization is their key word, leaving the generic silo approach to other PEOs.
As the April article, entitled 'The Boutique PEO Approach: Customized Solutions for a Chaotic World', details; HR Strategies works a little differently. Rather than dropping all of their clients into a confining box, they work on Needs Analysis and customization. They use the word 'boutique' in reference to nothing being "mass produced"; they provide a unique set of services to each client. HR Strategies' clients are cared for individually. Rather than focusing on 'client retention' they focus on 'customization' and that keeps clients staying with them year after year.
About HR Strategies
HR Strategies provides the customizable HR solutions (including but not limited to payroll, benefits, workers compensation, tax administration, regulatory compliance, HR consulting, training solutions) and expertise of a large corporation's personnel department in an affordable and effective solution. HR Strategies enables clients to reclaim time, stabilize and reduce labor costs, and stay compliant with government regulations.