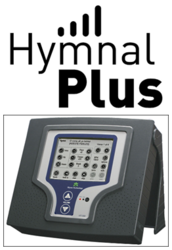 United Kingdom (PRWEB) April 27, 2013
Hymn Technology, the leader in the hymn music player industry, is now offering Christian Copyright Licensing International's (CCLI) top 25 worship songs. The CCLI top 25 is the most reliable, up-to-date list of popular, contemporary praise music and hymn music available today. Compiled twice a year and based on the most common contemporary songs churches choose to sing, the latest U.S. Top 25 is available as a repertoire upgrade for the Hymnal Plus hymn music player from Hymn Technology.
Some of the songs featured on the current top 25 list and available through Hymn Technology include How Great is Our God, Holy is the Lord, Happy Day, Mighty To Save, You are My King and many others. Worshipers of all denominations, races, and cultures will enjoy this timeless hymn music that elevates worship to a whole new level. The hymn music player's high-quality sound generator has enough processing power to create life-like pipe organ sounds.
The Hymnal Plus is portable, meaning church officials can take the top hymn music with them wherever they go to worship, such as schools or hospitals. To find a specific hymn, music users can use the search option by searching for any part of a first line, tune name or title. While clients can add the CCLI current Top 25 songs, the machine comes pre-loaded with 2,735 songs including a selection of traditional hymns and modern worship songs, plus music for weddings and funerals.
The sound produced by the Hymnal Plus is far more complex than other hymn music players. Worshipers can enjoy musical styles from professional musicians crafted into 244 preset musical styles including pipe organs, gospel organs, piano, orchestra, brass and woodwind quartets, worship bands and more. Clients also have an option to add a psalm player feature to their hymn music player from Hymn Technology.
To purchase the current CCLI Top 25 hymn songs for the Hymnal Plus hymn music player, visit http://www.hymnalplus.com/.
About Hymn Technology:
Hymn Technology Ltd, established in 1995 to distribute imported products into the UK worship music market, began to develop the Hymnal Plus when it saw the opportunity for a device that could provide churches with a large repertoire, great functionality and sound quality, which was completely upgradeable, portable and easy to use. Directors Martin Phelps and Alan Kempster, who between them had amassed over 50 years experience in the organ industry, saw the huge potential for a unit that could accompany congregational singing in the absence of either musicians or instruments.