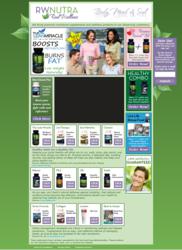 "We really want to get customers to experience all that we have to offer, including our first class customer service, and are giving away Fish Oil soft gels and Multi-vitamins so that people can experience RW Nutra for themselves"
Romeoville, IL (PRWEB) April 29, 2013
RW Nutra is Real Wellness. The online retailer announces the launch of its new store at rwnutra.com built to provide premium supplements and nutraceuticals to its discerning customers. They provide health and wellness products ranging from Omega 3 Fish Oil and Multi Vitamins to Ayurvedic Weight Loss supplements and Joint Support products. The company is devoted to bringing a wide array of wellness products to its customers with extremely competitive pricing.
"We strive to bring the very best products at the best possible prices to our customers" say William Curry of RW Nutra. Most products featured on the store can be tried out at home for less than $10 and some items are free to try. All products carried are widely used and proven to bring quality of life back to individuals looking to live a healthy lifestyle. "We really want to get customers to experience all that we have to offer, including our first class customer service, and are giving away Omega 3 Fish Oil soft gels and Multi-vitamins so that people can experience RW Nutra for themselves" continues Mr. Curry.
The company began airing a series for commercials on national cable this week to build awareness for the new store. They are also building awareness on Facebook (facebook.com/rwnutra) and Twitter (@rwnutra). Through these social networks they are able to educate their audience with daily tips to wellness and keep the costs down for customers. Special discounts and incentives are made available to followers and contributors on a weekly basis.
RW Nutra's product line is designed to offer something for everyone. Men and women of all ages can improve their daily lives and overall wellbeing by finding supplements that fit their needs. From The Lean Miracle weight loss product to the Stress Formula and Advanced Joint Support, the online store has something for everyone.
###
About RW Nutra
RW Nutra is an on line retailer of premium nutritional supplements with the goal of bringing the very best products at the best possible prices to its customers. RWnutra.com is a 24/7 wellness site offering incentives and tips to living with Real Wellness.