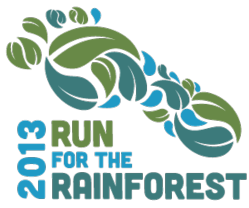 The Amazon Conservation Team encourages communities all over the world to act locally and think globally.
Gloucester, VA (PRWEB) April 26, 2013
Peace Frogs is dedicated to help protect the Amazon rainforest and pleased to announce a partnership with the Amazon Conservation Team's (ACT) third annual Run for the Rainforest 5K.
ACT's Run for the Rainforest will be held June 23 in Arlington, Va. at the Marymount University 5K course.
"ACT encourages communities all over the world to act locally and think globally," said Catesby Jones, Peace Frogs Founder and President. "Peace Frogs hopes people will share positively peaceful vibes. Bridge those two missions together and we have an opportunity to enact some real change."
The goals of ACT are to help stop climate change and environmental destruction. The Run for the Rainforest raised more than $40,000 in 2012, with a goal of topping $50,000 this year. All proceeds from the event benefits ACT's efforts to protect the Amazon and its traditional culture.
Protecting the Amazon also means protecting the frogs that live within it.
"ACT was founded in 1996 right here in Arlington, and we are proud of our local roots," said ACT President Mark J. Plotkin in a letter to partners about the event. "We are an international not‐for‐profit conservation strongly committed to the belief that the people who best know, use and protect the rainforest are the indigenous communities who live there."
According to ACT, operations in Colombia, Suriname and Brazil have helped more than 30 tribes map, manage, and protect their territories.
"Community participation and engagement is essential to our work in the rainforest—and it is also critical to the success of our local annual race," Plotkin said.
The Run for the Rainforest is expected to draw more than 450 runners, with more than 1,500 friends and family members gathered to support.
Learn more about the Run for the Rainforest at http://www.actrunfortherainforest.org.
Learn more about the Amazon Conservation Team at http://www.amazonteam.org.
About Peace Frogs:
Established more than 25 years ago by Catesby Jones, the Virginia-based Peace Frogs apparel company promotes positively peaceful living.
The apparel and gift products are featured online, in more than 800 specialty stores around the world and via an annual catalog. With 16 free standing stores and 20 licensees, the Peace Frogs brand grows in popularity each year.
For more information about Peace Frogs, contact Catesby Jones at catesby(at)mindspring(dot)com.