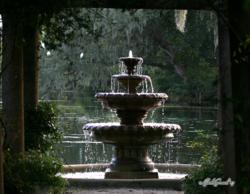 Wilmington, NC (PRWEB) April 29, 2013
Public gardens play a more critical role than ever in today's environment, culture and education system. One of North Carolina's premiere coastal gardens plans to celebrate this influence in new ways on National Public Gardens Day (NPGD), slated this year for May 10. Airlie Gardens will not only open her gates to welcome all visitors free-of-charge, but will feature a new attraction: Ribbit the Exhibit.
Planners say this day will serve as a celebration of innovation and a reminder of the role Airlie has played in the past – and will play in the future. From hosting top television series such as Dawson's Creek and One Tree Hill, to holding educational summer camps for children, to serving as a backdrop for countless fairytale weddings and community events, Airlie's influence branches far and wide. It is a perfect example of the power of public gardens.
"In addition to its wonderfully unique location, Airlie's history really sets these gardens apart from others," New Hanover County Parks and Gardens Director Tara Duckworth said. "This has been the setting for so many special occasions dating back to over a century ago. It is easy to forget how large a role Airlie has already played in the community, but it's great we have one day of every year dedicated to remembering just that."
The American Public Gardens Association (APGA) and Rain Bird created NPGD in 2009 to raise awareness of public gardens and their critical role in today's environment, education system and global culture. Every year, more than 500 botanic gardens, arboreta, educational gardens, farm gardens, historical landscapes, zoos, museum gardens and other APGA members mark the holiday in their own unique styles, inviting thousands of visitors to explore these local gems.
To bring NPGD garden-goers the perfect mix of new offerings and oldies-but-goodies, Airlie will open its seasonal Butterfly House for tours, as well as showcase the new exhibit. The house is a perennial favorite, providing guests the chance to surround themselves with free-flying butterflies native to North Carolina. For visitors who favor more stationary creatures, Ribbit the Exhibit will present more than a dozen larger-than-life copper frog sculptures by artist Andy Cobb. These fanciful hoppers – males and females, young and old, well-dressed and bare-skinned – can be found scattered throughout the gardens.
"We are more than excited to open our gates on May 10 and offer free admission to not just the grounds, but to all of our exhibits as well," Duckworth said. "Airlie is ready for what we believe will be the Gardens' greatest NPGD turnout to date. We hope residents and visitors alike will come discover Airlie Gardens – learn about our environment and let the beauty of the gardens inspire them."