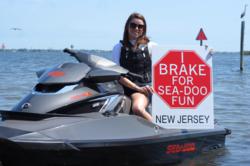 Melbourne, FL (PRWEB) April 26, 2013
BRP Sea-Doo is offering consumers the opportunity to test ride new 2013 Sea-Doo watercraft, equipped with iBR, the world's only on-water brake system at Test Ride events across the United States this spring and summer. The 2013 Sea-Doo Test Ride Tour will be visiting 23 popular family boating destinations and the next stops are in Fort Myers at Big Hickory Fishing Nook Marina, and Pleasant Harbor Marina in Peoria, Ariz.
The Sea-Doo Test Ride events will be free to the boating public.* Each Sea-Doo Tour STOP is designed for both experienced and first time boating families to experience the Sea-Doo lifestyle in a casual, fun filled atmosphere. Consumers are encouraged to visit http://www.seadoodemo.com to pre-register for the event and request a custom time block on the day of their choice.
When: Friday April 26, 1-5 p.m., and Saturday and Sunday, April 27-28, from 10:00 a.m. to 5:00 p.m.
Where:

Fort Myers, Fla.: Big Hickory Fishing Nook Marina, 26107 Hickory Blvd., Bonita Springs, FL 34134
Phoenix, Ariz.: Pleasant Harbor Marina, 40202 N. 87th Ave., Peoria, AZ 85383
Details: Visit http://www.seadoodemo.com or http://www.facebook.com/seadoo for the most up-to-date information regarding the Sea-Doo "I Brake For…" Test Ride Tour events and everything Sea-Doo!
For a look at the new Sea-Doo watercraft and boats, visit http://www.sea-doo.com.
*All Sea-Doo Test Ride Tour participants must possess a valid driver's license and must be over the age of 18 and in some states/provinces may be required to possess a safe boaters certificate/card/license.