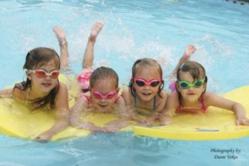 Swimtastic stands behind National Drowning Prevention Month as the country continues to lock arms in an effort to keep children safer around water.
Waukesha, WI (PRWEB) April 28, 2013
As summer time approaches and our warm friendly sun begins to peak her head out from behind the clouds, children & families of all kinds begin to spend more and more time outdoors. The warmer the weather gets, the more local communities begin to gravitate towards bodies of water to relax, play, and make the most out of another fantastic summer.
While families are eager to hop in the water and enjoy what beautiful mother nature has to offer; whether it be pools, lakes, ponds, rivers, or oceans, the month of May becomes an ideal time for swim schools across the nation to spread educational water safety tips. Actionable, safety-focused, resources are being extended to better serve the nation in an effort to keep beloved families safer as they spend time around water this year.
Swimtastic Swim School; with a total of 5 full-time facilities based out of Nebraska & Wisconsin, reaches out to the nation to offer a completely free, no-obligation report designed specifically to educate families around the world on the best steps to take in order to help keep children safer around water this summer.
The newly released report, "How to Keep Your Children Safer Around Water", goes into detail on:

Drowning Statistics Uncovered
Protect Your Children from the Stats
Water Safety Tips to Teach Your Children
7 Steps to a Safer Experience Around Water
The report can be accessed directly by clicking the link below; and sharing with friends, family, and those who may benefit from the information, is encouraged.
--> http://www.Swimtastic.com/Reports/Safer-Summer.pdf
Swimtastic stands behind May as the National Drowning Prevention Month & encourages families and friends to work together with the goal of keeping our children safer around water while enjoying a fun-filled summer season.
More Information
Swimtastic® Swim School, based in Waukesha, Wis., was founded in 1996 by child educator and swim expert, Susan Wainscott. Swimtastic, a leader in the learn-to-swim industry, has received numerous honors for its innovative curriculum, professionally trained teachers and child-friendly pool environment. Each year, thousands of children and adults learn to swim and gain the foundation of a lifetime- a love for water activities with Swimtastic. For more information, visit http://www.swimtastic.com.