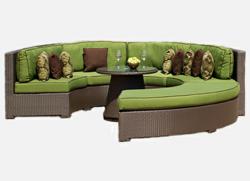 We bought a wicker furniture set that was on sale. My wife can't believe how nice it is for the low price we paid. Thank you, Annie's Wicker.
Pemberton, NJ (PRWEB) April 26, 2013
One of the hottest and most popular trends in outdoor resin wicker furniture right now is shown most spectacularly in Annie's Wicker's San Lucas Collection. The San Lucas Collection is most notably recognized for its sectional pieces. Whether looking to furnish a small porch or balcony or a large deck or pool area, the trendy San Lucas Collection is made for the needs of many. Sectional Middle Chairs from the San Lucas Collection, allow the owner the option of stretching a seating area to as large of an area as desired, which then allows for a seating accommodation for as large of a group as desired. An even trendier and ultra-modern option in Annie's Wicker's San Lucas Collection is the Armless Curved Sofa Wicker Sectional which helps to set up a more cozy seating area for those warm summer nights spent under the moonlight. Sectional Left Arm Love Seats and Sectional Right Arm Love Seats allow the option of closing off the end of a section of seating, but in the utmost comfort and style. Sectional Corner Chairs are perfect for the modern customer looking to keep up with the looks of strong, definitive modern lines.
The San Lucas Collection features resort styling seating with more than twenty components and is Annie's Wicker's largest furniture ensemble. There are many ways to configure this modern design wicker furniture to fit in one's particular setting. Porch, patio, poolside and even indoors, San Lucas is a treat for the eyes and a relaxing conversation spot to enjoy your days and evenings. Annie's Wicker's San Lucas Collection of resin outdoor wicker furniture is handwoven all weather resin wicker furniture. Like other collections offered by Annie's Wicker, the San Lucas Collection is made of a sturdy aluminum frame with a powder coated rust free finish. The design of the San Lucas Collection is that of a small, tight weave over a durable long lasting frame. The thick yet plush and comfortable deep seat cushions are fitted and reversible, featuring fabric that is mildew and fade resistant. Modular designs allow for seating arrangements to fit every style and need, and is available in two colors; java or willow with a myriad of cushion colors and designs.
The San Lucas Club Chair is perfect for filling in a small space for just one. The San Lucas Club Chairs are also perfect in groups of two for smaller outdoor areas. If a larger space is an option, the San Lucas Love Seat and San Lucas All Weather Wicker Sofa make for a classic yet modern collection reminiscent of European styling. Of course the plush Ottoman of the San Lucas Collection is a perfect addition for the consumer who is looking to relax in the lap of luxury.
About Annie's Wicker, LLC:
Annie's Wicker, an online retailer with over thirty-five years of wicker experience. The main focuses of Annie's Wicker are the quality of their products, which separate them from the big box stores and the sub par quality products sold in such stores, as well as their outstanding customer service. Annie's Wicker offers outdoor resin and wicker furniture designed and imported from leading manufacturers. The manufacturers use the highest quality materials in the construction of these goods.
For more information about Annie's Wicker, or to start shopping for the upcoming season, visit Annie's Wicker Furniture and Accessories.