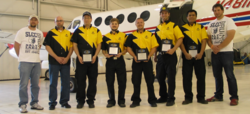 Salt Lake City, UT (PRWEB) April 28, 2013
The Salt Lake Community College Aviation Maintenance Technician (AMT) team took first place at the AMT Society Maintenance Skills Competition in Las Vegas. The team won in overall time in the competition's hydraulic event.
SLCC competed against twenty-four teams from four countries in fourteen different aviation maintenance skills events at the three day competition. In addition to the win in the hydraulic event, the SLCC team placed second overall in the school category.
The competition included timed challenges in events such as avionics, hydraulics, jet engine troubleshooting, window sealing repair, bond and ground, and electrical troubleshooting. It offers an opportunity to showcase students' knowledge, skill and integrity.
Chris Austin was captain of the SLCC Aviation Maintenance team; Julio Zuniga, Gordon Mabey, Mike Whipple, and Joseph Martin were team members and Jaime Horning was the team's coach, advisor, and Aviation Maintenance Instructor.
About the AMT Society's Skills Competition: AMT Society's Maintenance Skills Competition gives teams of licensed AMTs, AMEs, students enrolled in FAA, EASA, CASA or equivalently authorized schools as well as personnel of any country's Armed Forces involved in the aircraft maintenance field the opportunity to test their combined abilities against those of their peers. This competition helps enable the constant upgrading of the standards to which today's skilled aircraft maintenance professionals hold themselves.
About the College: Salt Lake Community College is an accredited, student-focused, urban college meeting the diverse needs of the Salt Lake community. Home to more than 62,000 students each year, the College is the largest supplier of workforce development programs in the State of Utah. The College is the sole provider of applied technology courses in the Salt Lake area, with 13 sites, an eCampus, and nearly 1,000 continuing education sites located throughout the Salt Lake valley. Personal attention from an excellent faculty is paramount at the College, which maintains a student-to-teacher ratio of less than 20 to 1.
# # #