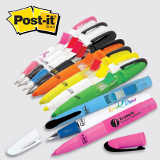 Rapid City, SD (PRWEB) April 29, 2013
For companies looking to get the most out of their next marketing campaign, Post-it® Flag Pens & Highlighters from BaslerCo Inc allow the opportunity to provide clients with two handy office tools for the price of one. Starting May 1st, BaslerCo Inc will have special pricing on all Post-it® Flag Pens & Highlighters. Potential clients are sure to appreciate these wonderful trade show giveaways.
Promotional giveaways are common at trade shows, but companies can stand out and make an impression with these promo pens. Writing instruments from BaslerCo Inc are great promotional tools to be used in marketing campaigns that promote goods and services.
With these unique pens and highlighters, customers and prospects will be able to highlight, write and flag. BaslerCo Inc offers three different series of writing instruments; classic series, contour series and trio series. Each series allows for barrel imprinting in up to four colors and are loaded with 50 Post-it® Flags. Custom barrel colors are available on large quantity orders of 25,000 or more.
So, starting May 1st, BaslerCo Inc would like to invite companies looking to increase brand awareness and bring in new business, to try out their new line of Post-it® Flag Pens and Highlighters. For more information on these innovative writing instruments, visit http://www.baslercoinc.com/Flag_Pens-Flag_Pen_Highlighters.html or call (800) 888-8309.
BaslerCo Inc products include regular and die-cut pads, cubes, flags, pens, highlighters, organizers and dispensers. Baslercoinc also provides a variety of unique options such as custom top sheet printing, alternating copy (rotating throughout the pad), second side printing, quick response on large quantity orders and custom sizes. To review additional products, visit us at http://www.baslercoinc.com/.