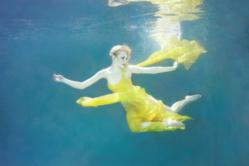 We're shooting Spring, Summer, its ethereal, its about romance and flowing, what better way to do that than underwater? - Dalia MacPhee
Los Angeles, CA (PRWEB) April 29, 2013
Canadian Fashion Designer Dalia MacPhee has always had an eye for the dramatic and cutting edge, so when organizing a photo shoot for her Spring/Summer line, she decided to dress actress Claudia Lee in several of her magnificent gowns and submerge the Hart Of Dixie (CW) star underwater.
The Angelic Claudia is graceful and poised, with a history in dance and swimming she was the perfect choice to bring Dalia's luxurious gowns into a celestial domain.
After 13 years as a professional designer Dalia MacPhee has rocketed to the upper echelon of sought after designers for red carpet events. Her gowns have graced the figures of celebrities such as Hillary Duff, Heidi Klum, Brooke Burke, Olivia Munn, Serena Williams, Scarlett Johansson, Khloe Kardashian, the stars of Glee and America's sweetheart gold-medalist Gabby Douglas.
For her Spring/Summer collection Dalia has reinvented her signature feel of 'Old Hollywood with a modern twist' - introducing some great new silhouettes and gorgeous fabrics that she found while traveling abroad. "It's a little more sexy, a little more bold, and a lot more heart," she says.
Dalia's collection has something for everyone; from the teen searching for her dream prom gown to the A-list star looking to wow the critics on the red carpet to the mother of the bride wanting to shine, including a size range up to size 24.
This exceptional line of gowns are not only red carpet friendly but also economically friendly, described by Entertainment Tonight as 'Couture with a conscious'. Dalia's dresses are vegan and made with no animal products. With every purchase of a Dalia MacPhee gown a tree will be planted in the Tahoe National Forest and a portion of the proceeds is donated to Women for Women Int., an organization that assists women who have been victimized in war-torn regions of the world.
Proceeds from the underwater shoot will be donated to the http://www.water.org a nonprofit organization founded to provide aid to regions of the world that do not have access to safe drinking water. We are currently presenting Dalia MacPhee to the professional media community - please contact:
The Dalia MacPhee collection is available at Neiman Marcus, Nordstrom and Boutiques Worldwide.
Follow Dalia:
https://www.facebook.com/officialdaliamacphee
https://twitter.com/daliamacphee