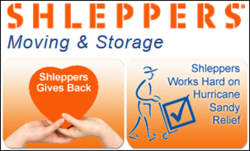 (PRWEB) April 28, 2013
Shleppers Moving and Storage, the popular leading New York City moving company, is planning for an expected spike in population movement into the city as 2013 rolls on. Rental rates throughout New York City, especially in areas like Manhattan and Brooklyn, remain optimistic and are expected to continue as summertime approaches. This comes as good news to the NYC movers and to people around the nation, and the world, who are increasingly seeking a new home in the famous city.
The Big Apple is experiencing record-breaking growth as increased foreign immigration from China and India has helped transform local markets. Last year, for the first time in over 60 years, more people moved into the city than moved out.
In addition, national unemployment rates fell to 7.7%, with New York State being among the brightest regions for consistent job growth, accounting for almost 20% of all new private sector employment nationwide.
As longtime NYC movers, Shleppers Moving and Storage is uniquely primed to handle the influx in New York City's population. With over 30 years in the business, the NYC moving company is particularly well suited to get people and their belongings safely and effectively relocated into the city. Their team has prepared for the expected summertime population spike, and they look forward to serving the needs of the growing population.
Shleppers is well sought after for their superior customer service, safety and efficiency. Their expertise in local, long distance, and international relocation services has helped ensure their position as leaders among NYC moving companies. As the NYC rental markets, job markets, and local economy continues to do well, Shleppers is excited to supply the new residents with a high quality, hassle-free move and more.
About Shleppers
Shleppers Moving and Storage is a leading moving and relocation company in New York City. For over 30 years, Shleppers has helped thousands of customers move their personal belongings to New York City. They offer free quotes on pricing for their long distance, international, and commercial relocation services, including special services. They are dedicated to quality, consistent service and superior customer service. They are fully licensed and credentialed. They are members of the American Moving and Storage Association (AMSA) and the New York State Movers and Warehousemen's Association. For more information, visit http://www.shleppers.com/ or follow them on Facebook, Twitter, LinkedIn or Google+.