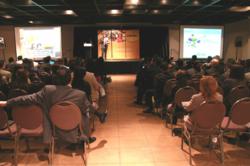 It's important for small business owners to attend events such as the Su Socio de Negocios Expo. Here you can easily meet your next potential client.
(PRWEB) April 29, 2013
Los Angeles, CA April 29, 2013- The impressive strength of Hispanics living in the United States is still present, regardless of economic uncertainty. This was proven by the desire to succeed of the 150 attendees of the Su Socio de Negocios Expo organized by El Clasificado at the Museum of Latin American Art in Long Beach.
The main focus was the lecture given by Ralph Holguín, founder of RMD Group, one of the most innovative Hispanic marketing agencies in Los Angeles, and that now boasts headquarters in what was once the Long Beach police station. Holguín was excited about the possibility to provide an encouraging message to attendees. "I love the interaction with the community and that organic message the community gives you in return," he said.
In his opinion, leadership and encouragement are elements lacking in regards to empowering small business owners with the tools needed to overcome the obstacles that threaten business growth and development. Holguín encourages entrepreneurs to put forth all their effort so they can become the persons they want to be. "The only thing that stops us is ourselves. If you put all your effort, you can change lives. If someone would have told me that one day I would be where I am today, I would have thought they were crazy."
Martha de la Torre, founder of El Clasificado and Su Socio de Negocios, agrees with Holguín in that entrepreneurs need to take that leap into new adventures and be optimistic. "Many people are finding themselves without a job and that's causing them to start their own business and to look at opportunities that they thought were not for them."
For Reuben Franco, President of the Orange County Hispanic Chamber of Commerce, it's important for small business owners to attend events such as the Su Socio de Negocios Expo. "Here you can easily meet your next potential client," he said.
Cristina Gonzalez, catering chef and member of the National Latina Business Women Association (NLBWA) also applauded the event. "It's important for women entrepreneurs to be at these types of events and support one another," she said. "I think we are doing an amazing job at impacting the state's economy and creating a great impression."
The Su Socio de Negocios event was sponsored by Wells Fargo, University of Phoenix, Bank of Comerica, Bank of the West and Jack Daniels. The next date is set for May 8, 2013 in El Clasificado's headquarters in Norwalk CA.
About Su Socio de Negocios and El Clasificado
"Su Socio de Negocios" is a series of events and expos in Spanish that El Clasificado debuted in 2006. El Clasificado, an EC Hispanic Media company, is a multi-platform media company that connects connects buyers and sellers in the Hispanic community. The 2013 Su Socio de Negocios calendar of events includes three expos and three breakfast seminars in different cities of California.
The El Clasificado print magazine has a verified weekly circulation of 510,000 that reaches 1.5 million weekly readers and is distributed from Fresno to San Diego and most recently to Yuma, Arizona. EC Hispanic also owns and operates elclasificado.com, which reaches 15 million monthly page views and susocodenegocios.com, which offers Hispanic small business owner's information on how to grow their business.
CONTACT:
Alicia Garcia de Angela, Director of Communications ,1-800-450-5852.
For marketing or sponsorship opportunities, please contact Hugo Hernandez, Director of Marketing and Events at 1-888-204-4591.