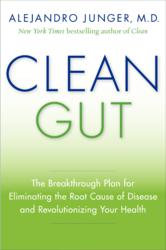 The New York Times bestselling author of CLEAN offers a groundbreaking program to eliminate minor and major health problems--from extra weight, chronic pain, and allergies to heart disease, inflammation, autoimmune disorders, and depression.
San Francisco, CA (PRWEB) April 30, 2013
In an age of highly advanced medicine, chronic diseases are on the rise. Nearly everyone seems to be suffering from some symptom, having tests done, and taking over-the-counter and prescription medications. But it's no longer necessary to get sick before getting healthy.
Alejandro Junger, M.D.'s first book, the New York Times bestseller CLEAN, outlined a 21-day detox program to reactivate the body's natural ability to heal itself, helping thousands to resolve persistent health issues. In his groundbreaking new book, Dr. Junger explains how we can preemptively attack disease before it takes root in the gut, rather than waiting to treat symptoms as they arise.
CLEAN GUT: The Breakthrough Plan for Eliminating the Root Cause of Disease and Revolutionizing Your Health (HarperOne; May 1, 2013; Hardcover) reveals that a damaged gut is at the root of nearly every symptom and medical condition and reveals how to repair the gut, eliminate the root of disease, have major and minor symptoms disappear, and discover what it means to be truly healthy.
The CLEAN GUT program prevents most chronic illnesses, including:

Allergies
Depression and mood swings
Infertility
Insomnia
Lack of libido
Autoimmune disorders
Cancer
Heart disease
Simultaneously, the CLEAN GUT program provides immediate benefits, including:

Increased energy
Improved digestion
Heightened mental clarity
Weight loss
Feeling, looking, and being truly healthy.
CLEAN GUT is based on the "four Rs" of functional medicine: Remove, Replace, Reinoculate, and Repair. The first phase of the program is a 21-day diet focused on eating easily digestible and low-sugar foods while removing the foods that lead to gut dysfunction. The second phase is a seven-day reintroduction process to identify the toxic triggers which do you the most harm. Together, the diet and reintroduction plan yields a comprehensive program that can be easily integrated into daily life and has the potential to heal and restore the area in the body that is most taxed by everyday life.
CLEAN GUT uses the 80-20 rule: fill 80 percent of the plate with greens and vegetables and 20 percent with protein and fat (meat, fish, quinoa, avocado, etc.). There is no need to count calories.
CLEAN GUT provides a complete diet, guidelines for maintaining a clean gut after the diet phase, and more than 50 recipes.
In direct contrast to the "pill for an ill" approach to health, in CLEAN GUT Dr. Junger says focusing on gut repair is the best preventative medicine of all and the road map to optimal health.
Early Praise for CLEAN GUT:
"Clean Gut is your doorway to vibrant health. Dr. Junger walks us through that doorway with a clear, simple program that addresses the root causes of disease. If you have digestive issues, or almost any other chronic disease it almost always leads back to your gut. This book is your roadmap to health."
--Mark Hyman, M.D., author of the #1 New York Times bestseller The Blood Sugar Solution and Chairman of the Institute for Functional Medicine
"My go-to doctor, Alejandro Junger understands health—literally from the inside out! His wonderful Clean program changed my life, and his new program has changed the way I think about illness and what it means to be healthy. Clean Gut is revelatory and rejuvenating."
—Gwyneth Paltrow
"Clean Gut is absolutely fantastic! A perfect companion to Clean, it is a meaningful guide to a sustainable and durable lifestyle of health and happiness. Bravo."
—Jeremy London, M.D., general vascular, thoracic, and cardiovascular surgeon at Savannah Vascular and Cardiac Institute
"Dr. Junger is spot on with Clean Gut! The first step in healing yourself is healing your gut. If you or someone you know wants to achieve optimal health - this book is a must read."

Amy Myers, M.D., Founder & Medical Director of Austin UltraHealth
"Dr. Junger blesses us with his knowledge about our bodies and the root cause of disease. A powerful book and a must read for anyone who wants to truly understand our elaborate makeup."
—Stacy Keibler
"Dr. Junger's Clean Gut is amazing. This clear and comprehensive program fits perfectly with holistic, empirical and time-tested nutritional and spiritual methods for bringing the micro-biome, our internal micro-community, back onto our side to sustain a blissful life."
—Robert Thurman, Jey Tsong Khapa Professor of Buddhist Studies at Columbia University and co-founder of Tibet House
About the Author:
Alejandro Junger, M.D. was born in Uruguay. Upon graduating from medical school he moved to New York City for postgraduate training, completing three years of training in Internal Medicine at NYU Downtown Hospital and three additional years of fellowship in Cardiovascular Diseases at Lenox Hill Hospital. The drastic change in lifestyle and diet resulting from his move to New York City resulted in diagnoses of irritable bowel syndrome and depression. As a result of becoming a patient experiencing numerous health problems and taking multiple prescriptions, he started to search for alternative solutions, which led him to design the detox program found in his first book, CLEAN. In his new book, he goes beyond the benefits of detox to get to the root cause of disease. More at http://www.cleangut.com
CLEAN GUT
The Breakthrough Plan for Eliminating the Root Cause of Disease and Revolutionizing Your Health
Alejandro Junger, M.D.
On sale May 1, 2013 / $27.99 Hardcover / 9780062075864
Also Available as an eBook and Audiobook