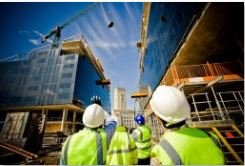 The Permitting solution accommodates any type of permit for Construction, Land Use, Zoning, Public Health, and many other agencies and departments.
St. Louis, Missouri (PRWEB) April 29, 2013
Built on a Microsoft Dynamics® CRM platform, the FastTrackGov (FTG) system is specifically designed to streamline the permitting process for state and local government. It can be used for several permit types including: new building construction, addition, remodeling, renovation, demolition, move, variance, zoning change, land alteration, septic, change in usage, sub-division, and many more related permits.
Each step of the permitting process has been simplified and reaches out to all parties through automated communications, notices, and alerts. It has the ability to accommodate all data requirements in automated records and quickly defines and manages tasks to mimic each department's existing workflow.
Centralized records provide all staff members with instant access to complete parcel information and desired data can be easily retrieved using a variety of information; such as project description, address, property owner, or applicant. With all of the fully integrated FTG modules, multiple divisions of state and local government departments can cross-check records. This ensures that all inspections and/or fees have been taken care of prior to issuing a permit or business license. Any kind of fee can be computed and various financial securities can be accommodated. The module can invoice and track account balances, as well as provide for on-line payments at the time of issuance. It also has the ability to establish approval steps for any application or permit. In addition, the software automatically provides users with the ability to track statistical and financial data regarding applications and permits by type. Users can even track the history of significant events for each account.
"Consider our permits database as an 'all-inclusive connection' between cities, counties, states, building departments, and their communities," explains Kim Schaefer, President and COO of Mitchell Humphrey.
Implemented to provide streamlined access to city and county services, the comprehensive Permitting module easily enables users to fully track the permitting process each step of the way, from the project's beginning, to routing and assignment, to application approval and inspection, through its final issuance of certificates. Each assignment becomes one simple, user-friendly screen designed to prevent error and duplication. Automatic fee calculations are based on occupancy and construction classifications. There is an easy electrical/mechanical/building fee interface that defines the scope of work and offers estimates. It also has the capacity to add ad hoc fees and automate special/impact fees based on defined zones. The system has the option to charge per hour and deduct from a deposit with specific fee accounting.
The 24/7 access and advanced portal functionality allows users to determine which permits are required in different jurisdictions and apply for, pay, and receive building permits anywhere via computer, mobile phone, or tablet. Users can submit questions, attach digital plans, access permits and authorizations at any time in one centralized location, and then receive certificates and arrange inspections from anywhere.
Inspectors and code enforcement personnel can track revenue collections from the field in real-time. With GIS mapping and access to daily inspection schedules, inspectors can easily navigate locations, create new cases, and submit inspection results remotely. In the field, inspectors can create, scan, attach, and print documents on-line or remotely, and automatically extend expiration dates. They can also store all ICC and local codes, electronically route and track applications for review, upload plans and documents, create inspection reports, generate certificates of occupancy, and record inspection results via laptop computers or tablets.
Without leaving their offices or construction sites, contractors can easily apply and pay for permits on-line, obtain permits on projects requiring no review or obtain permits after review and approval, check project status, and request inspections. Once the permit is issued, contractors can request inspections using the internet and government administrators can use the scheduling function to plan future inspections.
Through FTG's auto-assignment capability, government personnel and support staff can easily manage and assign projects to multiple organizations with different review times. Utilizing the ability of a central database for all activities, people, documents, and other information needed to successfully resolve complex code enforcement issues, employees can provide timely responses to complaints or inquiries.
About Mitchell Humphrey & Co.
Mitchell Humphrey is a "solution provider", not just a "software vendor". With over 35 years of software development experience, this company knows technology from the ground up and understands what their clients need to streamline their business. All of Mitchell Humphrey's software solutions are designed and maintained by a team of in-house developers, consultants, and support staff who can customize each system to streamline your workflow processes. Contact them to schedule a complimentary demo at http://www.fasttrackgov.com.
Software Solutions: Designed by Us, Customized for You