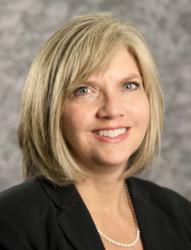 Winston-Salem, NC (PRWEB) April 26, 2013
Inmar today announced that Sharon Joyner-Payne, Inmar's Vice President, Communications, has been named among the Triad's top women business leaders by The Triad Business Journal. This award recognizes women leaders who are influencing Triad businesses and serving the community.
The 2013 Women in Business honorees are featured in today's print edition of The Business Journal.
Since joining Inmar, Sharon has held positions of increasing responsibility and influence – from leading marketing communications for the supply chain network exclusively to now heading internal and external communications for all of Inmar. During her tenure Sharon has led the branding efforts to consolidate more than six different and well-established company names (Carolina Coupon, Carolina Logistics Services, Stratapult, etc.) under the one brand "Inmar." The resulting brand more accurately reflects Inmar's global reach and impact on the marketplace.
Sharon developed and delivered the communications strategy, programs and events central to Inmar's transformational growth from a decentralized, operations-centered company to an integrated industry-leading technology organization that is recognized globally for excellence in innovation.
She also is responsible for engaging and educating Inmar's 4,000-plus employees in locations throughout North America through daily online and printed newsletters (in English and in Spanish), blogs from Inmar leaders, online chats with the CEO and town hall events.
"I am very humbled and honored to have been chosen for this recognition; it is our talented Communications team that deserves recognition for enabling me to accomplish our many exciting initiatives," says Joyner-Payne, adding "Not only am I am very blessed to have the support of my team, but also the entire Inmar team, my family and friends."
###
ABOUT INMAR
Inmar is a technology company that operates intelligent commerce networks. Our platforms connect offline and online transactions in real time for more than 1700 leading retailers, manufacturers and trading partners who trust Inmar to securely manage billions of dollars in transactions. Our Promotions, Supply Chain and Healthcare platforms enable commerce, generate meaningful data and offer growth-minded leaders actionable analytics and execution with real-time visibility. Founded in 1980, Inmar is headquartered in Winston-Salem, North Carolina with more than 4,200 employees across the United States, Mexico and Canada.
For more information about Inmar's products and services, please contact 866-440-6917 or visit http://www.inmar.com.