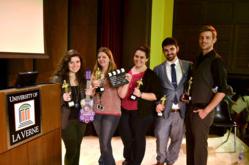 La Verne, CA (PRWEB) April 29, 2013
If hosting the 2013 United States Universities National Debate Championships for the first time was not exciting enough for University of La Verne's award-winning debate team, making it through to the semi-final round and placing 8th in the nation helped.
On April 12 – 14, the University of La Verne welcomed 46 colleges and universities across the globe to its campus for one of the most anticipated debate competitions of the year.
"It was an honor welcoming universities from all over the world to compete on our beautiful campus. I am especially proud of our strong La Verne team making it to the semi finals," President Devorah Lieberman said.
By Sunday afternoon, La Verne had advanced to the Top 8, surpassing schools such as Harvard, USC, UCLA, Duke University, UC Davis and Hawaii Pacific University, among dozens of others.
It was an intense semifinal round for La Verne's last-standing team consisting of freshman Gia Karpouzis and sophomore Melanie Nadon – who were in the hot seat competing against Yale, Loyola Marymount, and Hobart and William Smith.
In the end, Yale and Loyola Marymount advanced to the final round along with Stanford and Carroll College, with Yale winning the 2013 USU National Debate Championship.
Although La Verne, 2007 USU National champions, did not make it through to the final round, six La Verne students received prestigious distinctions:
(Octofinalists)
ASULV President Ava Jahanvash and Jonathan Singleton
(Quarter Finalists)
Sam French and Carl Decker
(Semifinalists)
Gia Karpouzis and Melanie Nadon
In addition to being named semifinalists, Nadon was named 8th Best Speaker in the nation and Karpouzis was named Best Novice Speaker in the nation.
"The last time we made it to the semifinals was 2008," Direct of Forensics Robert Ruiz said. "This is good stuff. Words can't express how proud I am of our team."