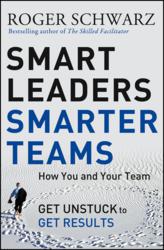 "Roger Schwarz has hit the nail on the head." — Marshall Goldsmith, million-copy, best-selling author of MOJO and What Got You Here Won't Get You There
San Francisco, CA (PRWEB) April 29, 2013
Executives and senior managers want to lead teams that are productive, passionate, and efficient, but often the results generated fall below their team's potential or what the team needs to achieve. A new book, Smart Leaders, Smarter Teams (Jossey-Bass, Hardcover, $32.95, ISBN: 978-0-7879-8873-9, April 2013), written by an organizational psychologist and consultant to Fortune 500 companies, non-profits, and government agencies, reveals how leaders and their teams can adopt a new mindset to achieve greater short- and long-term success.
Author Roger Schwarz, president and CEO of Roger Schwarz & Associates, calls upon 30+ years of research and experience working with leadership teams to reveal how leaders can dramatically improve results. Schwarz says too many leaders have a unilateral control mindset when a Mutual Learning mindset would get their teams unstuck and moving forward together toward results.
"When you use a Mutual Learning mindset, you achieve your goals by learning from and with others," asserts Schwarz. "This means you are open to being influenced by others at the same time you seek to influence others. You see each member of your team as having a piece of the puzzle. Your job, along with your team members, is to jointly put the puzzle together."
Smart Leaders, Smarter Teams provides leaders with:

8 behaviors to build on the collective strengths of your team
5 core values to help you and your team get unstuck
9 steps to give your team members feedback to improve results
5 methods to improve performance and working relationships through email
Dozens of tips on how to create structures and processes a leadership team can use to make better decisions, increase commitment, and generate shared accountability
5 key assumptions and behaviors that create better performance, stronger working relationships, and greater team member well-being, such as keeping meetings on track
A response to myths on best practices, including improving performance with 360 review feedback
The Mutual Learning mindset, once adopted by the leader and his or her team, allows them to cohesively solve problems, make decisions, and resolve conflicts. The team is better positioned, as a result, to realize greater commitment, enhance innovation, reduce costs, and reduce stress.
Schwarz, the author of the best-seller, The Skilled Facilitator, was a tenured associate professor of public management at the University of North Carolina. His clients include ConocoPhillips, the American Red Cross, the World Bank, the United States Department of Interior, TransCanada, and a wide range of other organizations.
"Too often I have witnessed leaders undermine the very results they are trying to create," Schwarz shares. "In my book, I propose that creating an effective team starts with making some fundamental choices about how you want to lead. These choices reflect your basic values and assumptions about what it means to be a leader and what it means to be a team. I frame them as choices between a traditional self-serving approach to leadership and a relatively new, more systemic and sustainable approach to leadership."
Schwarz addresses the leader behaviors that cause their teams to fall short, including:

Stating views without asking others for their views
Avoiding transparency by withholding relevant information
Acting on untested assumptions and inferences as if they were true
Focusing on positions, not interests
Controlling conversations in ways that fail to gain commitment from others
"To benefit fully from Mutual Learning, the whole team needs to share the mindset," says Schwarz. "To achieve the Mutual Learning results the team, as a whole, needs to be transparent and curious. It needs to create informed choice, be accountable, and practice compassion. Everyone needs to show up assuming that they have some of the information but not all of it; that others see things that they may not; that people can disagree and still have pure motives; that differences are opportunities for learning."
As a result, everyone on the team learns to take responsibility for being part of the team's problems and solutions.
"Team members need to realize that they are part of a collective team mindset that defines the relationship between themselves and their formal leader," Schwarz says. "They also need to see that leadership issues are not solely the concern of the team's formal leader, and that team leadership can – in fact, must – come from everyone on the team."
As a leader, you want those you work with to succeed and achieve greater results but sometimes the team instead delivers a lackluster performance. Strained relationships, overly stressful situations, and unproductive meetings become the norm – but according to Schwarz's new book, it doesn't have to be this way.